Katherine Jackson returns to the witness stand
Testifies of attempted intervention for Michael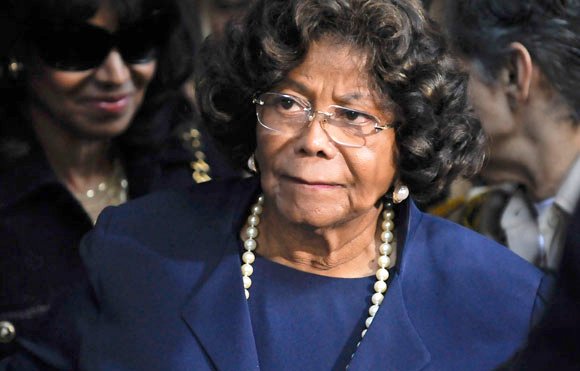 Michael Jackson's mother testified today that she spoke to her superstar son on at least two occasions over the years about rumors of an addiction to prescription medications, but said she never saw him under the influence of drugs.
Testifying for a second day in the trial of her negligence and wrongful-death lawsuit against concert promoter AEG Live over the singer's June 25, 2009, death from an overdose of the anesthetic propofol, Katherine Jackson said she spoke to her son about drugs in 2007 when he was living in Las Vegas.
Under cross-examination by AEG Live attorney Marvin Putnam, she said she questioned him in response to rumors about his abuse of prescription pain killers.
"He denied it," Jackson told the six-man, six-woman jury. "A child doesn't want his mother to think something bad about him. He's going to deny it."
She said she had joined other members of her family to stage an intervention at the singer's Neverland Ranch about five years previously, but he "was OK" and did not appear to have a problem.
"I knew he was taking them (pain pills) but I didn't know he was abusing them," she testified, adding that her son became upset when the family turned up at his door."When we got there, there was nothing wrong with him."
Despite her concerns, she testified that she "never saw" her son under the influence of drugs.
Jackson began testifying Friday, but the judge cut her testimony short that day over concerns about the 83-year-old witness' energy level on the stand.
On the stand today, Jackson often asked to have questions repeated or said she couldn't understand what she was being asked.
At one point, she retorted, "I'm not answering that question because it doesn't make sense."
Jackson filed suit in Los Angeles Superior Court in September 2010 on behalf of herself and her late son's three children, alleging that concert promoter AEG Live and two of its executives hired Dr. Conrad Murray to care for the singer and failed to supervise him properly.
AEG denies wrongdoing and claims Michael Jackson alone hired Murray, intending to ensure a steady supply of the drug he used for sleep and that eventually caused his overdose death at the Holmby Hills mansion he rented while rehearsing for 50 sold-out concert dates in London.
Murray was convicted of involuntary manslaughter and sentenced to four years in jail for intravenously administering the powerful anesthetic to the entertainer, who was 50 at the time of his death.
Katherine Jackson said today she knew nothing about any attempts by her son to enter any drug rehabilitation programs, although she had heard that actress Elizabeth Taylor had tried to get him into rehab.
"As far as I'm concerned, he didn't have a problem with prescription drugs," she said, adding that all she knew was what others told her.
She said she was among the Jackson family members who signed a letter sent to People magazine in 2007 in response to an article, based on anonymous sources allegedly close to the family, about the singer's efforts to get off prescription drugs and alcohol.