Protesters stand up to 'stand your ground,' but law likely to stay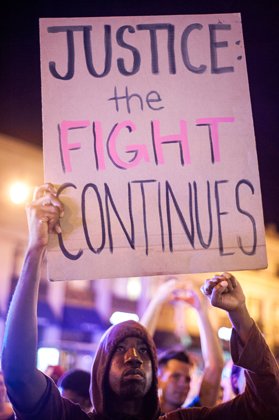 U.S. Attorney General Eric Holder said the laws "try to fix something that was never broken" and now encourage "violent situations to escalate in public."
But just as adamantly as the laws are decried, the National Rifle Association has stood by the measures it helped many states adopt.
"The attorney general fails to understand that self-defense is not a concept; it's a fundamental human right," said Chris W. Cox, executive director of the NRA's Institute for Legislative Action. "To send a message that legitimate self-defense is to blame is unconscionable."
What are the chances of repeal?
As for those Dream Defenders at the Florida governor's office, their protest may be futile. Scott's office noted that the gubernatorial task force recommends the law stay in place, though with minor tweaks, including limiting neighborhood watches to observing and reporting.
Daniel Webster, director of the Johns Hopkins Center for Gun Policy and Research, said he doubts the protests will change anything. Overturning laws isn't incredibly common already, and with "stand your ground," there are complicating factors.
The NRA is strong in the 22 states that have the laws, and "I think there is some popular appeal to the notion, the very general notion, that citizens should be able to protect themselves and you shouldn't have to, in essence, run from crime."
Also, the laws are relatively new, most of them enacted in the past eight years, and it's unlikely the same legislators who put "stand your ground" laws on the books would suddenly be inclined to think they were wrong.
"The more common response is, they're going to dig their heels," he said.
As a parallel, Webster offered the "Draconian" drug sentencing laws of the 1980s, which hugely expanded incarceration rates, were outrageously expensive and did little to improve public safety. Yet, the country is only now examining those laws and considering their repeal.
"I assume, in part, that's because the people who passed them are no longer there," Webster said.
The trickiest factor, however, is that proponents and opponents of "stand your ground" can find in the Zimmerman case assertions to support their beliefs, he said.
One side believes Martin attacked Zimmerman, and Zimmerman had no choice but to fire his weapon to defend himself. The other side believes Zimmerman racially profiled Martin, followed him against a dispatcher's order and then shot a teen who was only reacting, perhaps out of fear, to being followed.
"You can find whatever you want to back your assumptions," Webster said.
Putting on his gun policy expert hat, Webster said he felt the laws are a "very bad idea," and they don't do what they were intended to do: deter criminals and protect the citizenry.
Doubts about 'stand your ground'
After Florida expanded its "Castle Doctrine" laws to a "stand your ground" provision in 2005, the National District Attorneys Association released a report. It said a "diminished sense of public safety" after 9/11, a lack of confidence in the criminal justice system's ability to protect victims, a perception that due process trumps victims' rights and a decrease in gun legislation spurred the creation of "stand your ground" laws.