Doctor: Promoter knew about Michael Jackson's drug dependency
Katherine Jackson will take the stand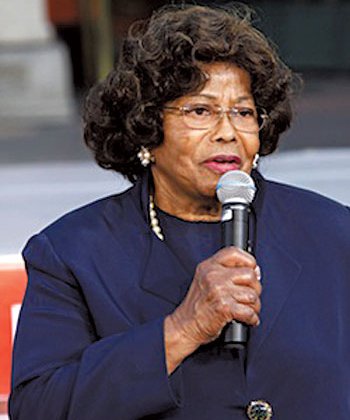 Michael Jackson's elderly mother will soon tell jurors about her most famous son, as the wrongful death trial of his last concert promoter reaches a midpoint.
Jurors heard one of Jackson's former doctors testify last week that the top producer of Jackson's comeback concerts knew about the singer's drug dependency on a previous tour.
Katherine Jackson, 83, has sat on the front row of the Los Angeles courtroom almost every one of the 46 days of testimony. She's shed tears, sometimes laughed, and at one point last week shouted out the name of one of her son's movies when a witness couldn't remember it.
Her testimony, which is expected to be emotional, will be followed by AEG Live lawyers presenting their defense, which they've warned will include "ugly stuff" to prove that Michael Jackson was responsible for his own death.
Jackson's mother and three children contend AEG Live is liable because it hired, retained or supervised Dr. Conrad Murray, the physician convicted of involuntary manslaughter in the pop icon's overdose death. Murray admitted giving Jackson nightly infusions of the surgical anesthetic propofol, which the coroner ruled killed the singer on June 25, 2009.
AEG Live lawyers argue their executives had no way of knowing that Murray—whom they say Jackson chose and controlled—was giving him the dangerous infusions in the privacy of Jackson's bedroom to treat his insomnia.
"They were a concert promoter. How could they know?" AEG lead lawyer Marvin Putnam asked during his opening statement 12 weeks ago.
"Don't be a Dr. Nick"
Jackson lawyers argue that AEG Live co-CEO Paul Gongaware—the top producer of Jackson's "This Is It" comeback tour—should have known the hazards of hiring Murray because of his personal experience with Jackson and his work with other artists, including as a promoter on Elvis Presley's last tour. Gongaware denied in his testimony that he ever knew that Jackson had drug dependency problems while touring.
But video testimony shown to the jury last week contradicts Gongaware's claim. CNN obtained video segments from the deposition of Dr. Stuart Finkelstein, who served as Jackson's doctor during his 1993 "Dangerous" tour, which ended early because the singer entered a drug rehabilitation program.
"I said I think we're going to have a problem," Finkelstein testified that he told Gongaware, who was then serving as a manager on the "Dangerous" tour.
Jackson lawyer Kevin Boyle: "Did you tell Mr. Gongaware that you thought Mr. Jackson had a dependency on opiates?"
Finkelstein: "Yes."
Boyle: "And what did Mr. Gongaware say to you?"
Finkelstein: "He said, 'Don't be a Dr. Nick.'"
Boyle: "And by Dr. Nick, was he talking about Elvis?"
Finkelstein: "Yes. He was Elvis' doctor. And I think Elvis died with like 14 different chemicals in his system. And he was kind of warning me that, you know, don't get all infatuated where you start administering meds to a rock star and have the rock star overdose and die on you."
Dr. George Nichopoulos, known as "Dr. Nick," was "the doctor whose overprescription of drugs to Elvis had led to Elvis' death," according to a court filing by Jackson lawyers.