Violent demonstrators will not be tolerated Police Chief Beck says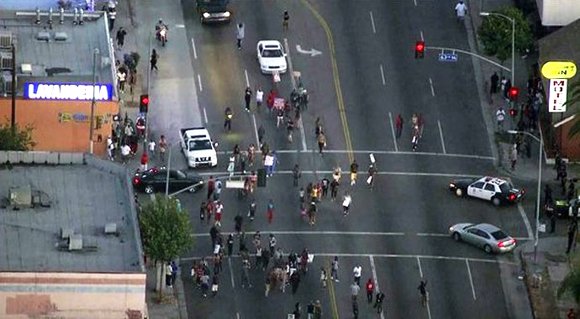 SOUTH LOS ANGELES, Calif. — One day after a mob broke away from a Trayvon Martin prayer vigil and went on a violent rampage along Crenshaw Boulevard, Los Angeles police Chief Charlie Beck today repeated his vow that the department will take a much tougher stance during future protests to prevent more trouble.
"We cannot allow a small group of individuals to not only damage ... and strike fear the community, but also to destroy the message of so many in the community," Beck said during a Police Commission meeting.
On Monday night, a 150-strong mob split from a Leimert Park prayer vigil and rally and went on a rampage along Crenshaw Boulevard, damaging several businesses, assaulting people, vandalizing cars and blocking traffic, police said. Fourteen people were arrested.
Beck told the Police Commission the department would not tolerate any more violent demonstrations and called on the public to "stay within the parameters of the law" if they intend to march again. He also said the department would increase the number of officers in the Leimert Park area tonight. As many as 350 officers were deployed in the area Monday night.
Police give "a lot of leeway" to demonstrators, even if they do not have a permit, to allow them freedom of speech, Beck said, but "unfortunately we won't be able to do that tonight because of the circumstances of last night."
Of Monday night's protesters, Beck said, "Peaceful demonstration was not what they weren't interested in."
Monday was the third consecutive day the LAPD went on a tactical alert in response to protesters upset over the acquittal of Florida block watch captain George Zimmerman in the killing of 17-year-old Trayvon Martin. The alert allows stations to keep officers on duty past the end of their shifts.
Beck noted that his officers also responded to six homicides over the weekend — and the department could have used the help of the more than 300 officers who were instead assigned to the demonstrations.
"We had an extremely violent weekend during which I would have loved to have used those same resources to prevent further violence but I was unable to do so," he said. "This is a relatively small police department with a huge mission, and it taxes us to the extreme when we have to deal with situations like this."
Of the 14 people arrested Monday, seven adults and six juveniles were suspected of failing to disperse and one was suspected of inciting a riot, according to LAPD Detective Gus Villanueva.
Firefighters put out several small fires and responded to "a couple" of minor injuries, according to Erik Scott of the Los Angeles Fire Department, which had 30 extra firefighters deployed to the area in case of trouble, along with arson investigators and chiefs who were working with the LAPD.
At a late-night news conference, Mayor Eric Garcetti lashed out at protesters who engaged in violent acts.
"The trial that we saw in Florida has ignited passions, but we have to make sure that it will not ignite this city and we see a small group that has taken this opportunity to exploit this situation — acts of vandalism, attacks against other community members," Garcetti said.