Verdict doesn't end debate in Trayvon Martin death
More than 285,000 sign a MoveOn.org petition calling for a civil rights case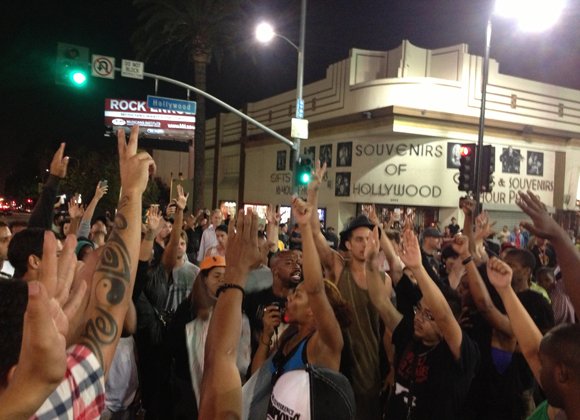 They took to the streets, to radio call-in shows, to social media to vent their frustration. George Zimmerman not guilty? It can't be, they said.
"Only white life is protected in America," one protester in Washington shouted Sunday, a day after a Florida jury found the Hispanic former neighborhood watch volunteer not guilty in the 2012 death of African-American teenager Trayvon Martin.
But, as with all things surrounding the divisive case, not everyone shared the view that Martin was the victim, that the verdict was wrong.
While few, if any, Zimmerman supporters held rallies celebrating the verdict, on the "George Zimmerman is Innocent" Facebook page, fans were hawking T-shirts and stickers hailing Zimmerman and posting messages of encouragement.
"Thank God the jury got it right and found George not guilty," Facebook user Pete Habel posted Monday on the page.
The six-woman jury — five of whom are white and one who appeared to experts covering the trial for CNN's sister network, HLN, to be black or Hispanic — deliberated for about 16 1/2 hours over two days before reaching their verdict late Saturday.
Most of the protests began a night later, on Sunday, and were largely peaceful.
On Monday, pastors held a prayer service in Sanford, Florida, where the trial was held, while in Washington, outside the Justice Department, a handful of protesters from the National Black Church Initiative called for federal civil rights charges against Zimmerman.
"We want the Justice Department to assure that other African-American males will not be killed because they ran into a white American who was afraid of their presence," the Rev. Anthony Evans, the group's president, told reporters.
At the Florida service, police Chief Cecil Smith praised the response of residents to the verdict.
"Everyone is watching what we do," he said. "And we have been the most peaceful people around the world."
Protesters were also expected to gather at noon in Cleveland with bags of Skittles — the candy that Martin had just purchased when he was killed, CNN affiliate WEWS reported.
On Sunday, protesters in Washington chanted "No justice, no peace" and "Trayvon was murdered" as they marched, freelance photographer Michael Kandel told CNN's iReport.
In New York, demonstrators marched across Manhattan and filled Times Square.
"This is what democracy looks like," they chanted.
And in Florida, just steps away from the courthouse where a jury acquitted Zimmerman, demonstrators vowed that their fight wasn't over.
"Nationwide protest to demand justice," protesters chanted.
In Los Angeles, a demonstration against the verdict grew tense late Sunday and early Monday.
Some protesters hurled flashlight batteries, rocks and chunks of concrete toward police, Los Angeles police spokesman Andrew Smith said. Police responded by shooting bean bags at protesters. Police arrested seven people, according to Officer Norma Eisenman. Five were arrested for failure to disperse, one for battery on a police officer and one on marijuana possession, she said.
The Rev. Jesse Jackson called for protests to continue, but to remain peaceful.
"There will be protests, but they must be carried out with dignity and discipline," he told CNN's "New Day."