Another case had a different outcome under Florida's "Stand Your Ground" law
Why everyone's talking about Marissa Alexander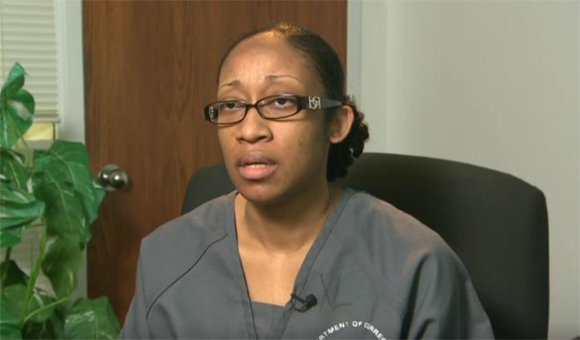 JACKSONVILLE, Fla. — In the wake of the not guilty verdict for George Zimmerman in the death of Trayvon Martin, another name started to trend Monday on the Internet: Marissa Alexander.
The Jacksonville, Florida, woman tried to use a "Stand Your Ground" defense in 2012, but was later convicted of three counts of aggravated assault.
The biggest question people have as they continue to share Alexander's story is: Why was this mother of three sentenced to 20 years in prison while Zimmerman walked free?
Alexander said her husband, Rico Gray, tried to strangle her on August 1, 2010, after reading text messages she had sent her ex-husband. She said she escaped his grip and, instead of leaving out the front door, went into the garage to get into her car. But in the confusion of the fight, Alexander said she forgot her keys.
"I knew I had to protect myself," Alexander told CNN in a 2012 interview. "I could not fight him. He was 100 pounds more than me. I grabbed my weapon at that point."
Gray saw the weapon at his wife's side when she returned, according to Alexander, and continued to threaten her life. That's when she said she decided to fire a warning shot.
"I believe when he threatened to kill me, that's what he was absolutely going to do," said Alexander. "That's what he intended to do. Had I not discharged my weapon at that point, I would not be here."
Gray had his two children with him when Alexander fired a shot into the wall but no one was killed or even injured.
In a deposition with the Florida state attorney's office, Gray even backed up his wife's story.
"If my kids weren't there, I knew I probably would have tried to take the gun from her," Gray said. "If my kids wouldn't have been there, I probably would have put my hand on her."
When Alexander's defense attorney asked him what he meant by "put my hand on her," Gray replied, "probably hit her. I got five baby mammas and I put my hands on every last one of them except for one."
But in a hearing to dismiss Alexander's case under the "Stand Your Ground" law, Gray changed his story, saying he lied to protect his wife.
"I begged and pleaded for my life when she had the gun," Gray said.
The judge refused to grant Alexander immunity under the "Stand Your Ground" law. Alexander also rejected a plea deal of three years in prison, opting instead to take her case in front of jurors. They found her guilty in just 12 minutes.
Under Florida's 10-years-to-20-years-to-life law, Alexander was sentenced to a mandatory 20 years behind bars because she was convicted of aggravated assault where a firearm was discharged.
Zimmerman, on the other hand, was found not guilty of second-degree manslaughter by a jury of six women. It took them a little more than 16 hours to render the verdict that set Zimmerman free.