Jurors begin deliberations in Zimmerman trial
7/12/2013, 12:41 p.m. | Updated on 7/12/2013, 3:49 p.m.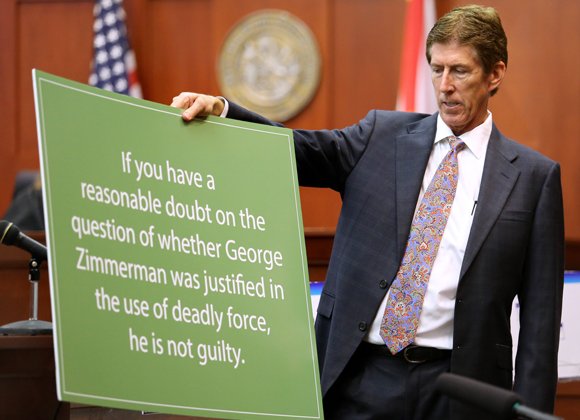 "Common sense tells you it's the person talking like the defendant who had hate in his heart," Guy said.
"What is that when a grown man, frustrated, angry, with hate in his heart, gets out of his car with a loaded gun and follows a child? A stranger? In the dark? And shoots him through him heart?" Guy said. "What is that?"
It was, defense attorney Mark O'Mara argued, nothing more than self-defense.
Defense argument
"How many 'coulda beens' have you heard from the state in this case," O'Mara asked. "How many 'what ifs' have you heard from the state in this case? They don't get to ask you that. No, no, no."
"Do not give anybody the benefit of the doubt except for George Zimmerman," O'Mara said.
O'Mara tried to discredit the prosecution's image of Zimmerman as a frustrated, spiteful vengeance-seeker, saying it was Martin who stalked Zimmerman and emerged from the darkness to pounce on Zimmerman, pinning him to the ground and slamming his head into the concrete sidewalk.
"That's cement; that is a sidewalk," O'Mara said, lugging a heavy block of cement to a spot on the floor in front of the jury. "And that is not an unarmed teenager with nothing but Skittles trying to get home. That was somebody who used the availability of dangerous items, from his fist to the concrete, to cause great bodily injury against George Zimmerman."
In his rebuttal, Guy ridiculed the argument that Zimmerman had suffered substantial injuries, saying repeated blows against concrete would have caused more damage than the rivulets of blood and bumps seen in photographs from the night of the shooting.
Judge Nelson ruled Thursday that jurors will be allowed to consider manslaughter in addition to the original second-degree murder charge.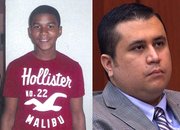 The prosecution
In the prosecution's initial closing argument, delivered Thursday, prosecutor Bernie de la Rionda argued that Zimmerman's account that he fired his gun because he feared for his life does not hold up.
"He brought a gun to a struggle, to a fight that he started ... wanting to make sure the victim didn't get away," the prosecutor said. "And now he wants you to let him off because he killed the only eyewitness, the victim Trayvon Martin, who was being followed by this man."
Although Zimmerman did not testify before his defense team rested its case on Wednesday, his words were front-and-center a day earlier.
The prosecutor sought to pick apart interviews Zimmerman had given to police and in the media.
Why would a scared man get out of his car and walk around after being told by a 911 dispatcher not to follow the victim? Did Zimmerman walk toward Martin, or did Martin come after him — he seemingly said both? Should he have had more than a bloody nose and scratches on his head if he'd had his head slammed on the ground by the victim?
"(Zimmerman) always has an excuse, or they catch him in a lie," de la Rionda said.