Hillary Clinton gets library; Gov. Pat Quinn suspends pay; James Holmes pleads insanity
7/12/2013, midnight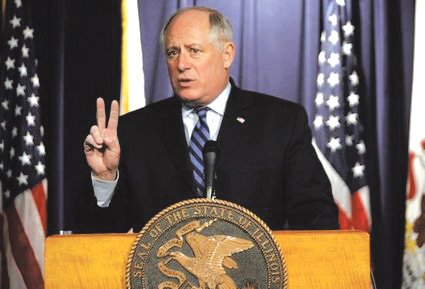 Georgia
A 13-year-old has been charged with cruelty to animals after police said he stomped a duck to death. The incident occurred July 3 in Watkinsville in Oconee County on Greensboro Highway in front of the Georgia Farm Bureau. According a witness, the teen chased a hen and her 11 ducklings across the road. As they scurried to a storm drain for safety, the boy managed to stomp on a straggler, killing it. The witness said the teen told him he did it because, "they were chasing me." He also said the teen did not seem upset or bothered at all. When police arrested the teen, they found two knives and a flask of vodka on him. According to the police report, the teen's parents told police he suffers from Asperger syndrome, a high-functioning form of autism, although he does not receive treatment for it. They also said "he has become fixated on survival techniques" and that "this is not the first time that something like this has happened."
Illinois
An exasperated governor Wednesday suspended pay for state legislators until they pass employee pension reform for state workers. Gov. Pat Quinn, a Democrat, issued a line-item veto to budget bill, House Bill 214, suspending the pay of all members of the state Legislature. The veto came after the General Assembly again failed to pass pension reform. In a press conference announcing the pay suspension, Quinn repeatedly called the lack of comprehensive pension reform a "crisis," one requiring desperate action from himself and the Legislature. "They're not going to get paid until they get the pension reform accomplished," Quinn said. Illinois legislators make $67,836 a year, according to the governor's office. Quinn defended his action by saying he is authorized by the state constitution to veto any bill or line item. Quinn himself will receive no pay until the matter is over, he said, having ordered the state comptroller to withhold his salary as well.
Louisiana
Workers are pumping mud into a well in the Gulf of Mexico, south of Louisiana, to try to stop a natural gas leak that is also leaving a sheen on top of the water, federal officials said Wednesday. The wellhead is about 70 feet above the ocean's surface, at a platform about 74 miles southeast of Port Fourchon. It was leaking a combination of natural gas, water, and condensate—a liquid form of raw natural gas—according to the federal Bureau of Safety and Environmental Enforcement, which is monitoring the well-plugging efforts along with the Coast Guard. While the natural gas dissipates into the air, the lightweight condensate falls to the ocean's surface, where it forms a "rainbow sheen." That sheen appears to be evaporating, the bureau said. It did not say when it expects the leak to be plugged.
Massachusetts
Boston Marathon bombings suspect Dzhokhar Tsarnaev faced more than two dozen survivors of that attack Wednesday as he pleaded not guilty to killing four people and wounding more than 200. Tsarnaev is charged with 30 federal counts stemming from the April 15 attack, when a pair of bombs went off near the finish line of the packed course. Three people died in the blasts, including an 8-year-old boy, while a Massachusetts Institute of Technology police officer was killed three days later at the start of the dramatic chase that led to Tsarnaev's capture. MIT police lined up outside the courthouse as the hearing neared its end Wednesday afternoon in a show of solidarity with their fallen comrade, Sean Collier. Inside, about 30 survivors of the attack watched as Tsarnaev appeared before U.S. Magistrate Judge Marianne Bowler.
International
Canadian authorities have found evidence that a criminal act may have led to a train crash in Lac-Megantic, Quebec, that killed at least 15 people, provincial police Capt. Michel Forget said Tuesday. There have been many questions about the crash and explosion that wiped out a swath of the town 130 miles east of Montreal. As of Tuesday evening, 35 people were still missing, Forget said. Authorities offered no further details about the case but said it was not caused by terrorism. "I will not speculate on the elements that we have recovered," Forget told reporters. Investigators had earlier said that they are trying to figure out whether the train's brakes were disabled before it barreled at a dangerous speed into the Quebec town, derailed and burst into a deadly inferno.
Compiled By Juliana Norwood. CNN News Wire contributed to this report.