OBAP announces 37th convention; Soledad O'Brien joins Al Jazeera America; 'Think China 2013' launches
7/11/2013, midnight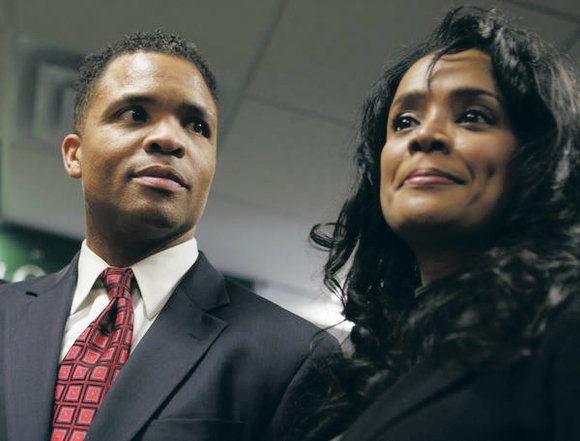 Georgia
Clark Atlanta University 2013 MBA graduates Christopher Gladney and Jarvis Robertson recently won the prestigious Innovation Challenge and a $5,000 cash prize, sponsored by Skild, a privately held company that helps companies and organizations design and manage online contests. The Innovation Challenge is the world's largest and most established online innovation competition. For more than 10 years, the brightest and most creative people throughout the world have been matched with leading companies in an experience designed to address the companies most pressing business and social innovation challenges. Gladney and Robertson were charged with developing a strategic marketing campaign to shape the future of Seagram's national brand. They produced an integrated campaign that encompassed both traditional and non-traditional marketing tactics to increase Seagram's market share and optimize return on investment. The two graduates are working with company executives to execute the plan.
Illinois
Twenty-five-year-old twin brothers John and Eugene Meek from Chicago, were recently found dead from an apparent drug overdose. Their bodies were found with spoons and needles nearby. A friend went by to check on the pair after they were missing for nearly three days, and found them in their home both unresponsive. He called police, and shortly after, the two were pronounced dead. According to the family, the two brothers "did everything together," and sadly they have also died together as a result of drug abuse.
•
The sentencing of former U.S. Rep. Jesse Jackson Jr. and his wife, Sandra Stevens Jackson, has been rescheduled for next month. U.S. District Court Judge Amy Berman Jackson will sentence the couple in separate hearings beginning at 9:30 a.m. on Aug. 14. Prosecutors recommended that Judge Jackson sentence Jesse Jackson Jr. to 48 months in prison and Sandra Jackson to 18 months. Jesse Jackson Jr., who represented the state's 2nd Congressional District, pled guilty in February to conspiring to commit wire fraud, mail fraud and making false statements. He admitted to conspiring to defraud his re-election campaign of about $750,000. He is the son of civil rights icon Rev. Jesse Jackson Sr. Sandra Jackson, 49, pled guilty to filing false federal income tax returns. She is a former Chicago alderman.
New York
Emmy Award-winning journalist Soledad O'Brien, who recently left the CNN morning show "Starting Point," has confirmed that she has now signed on as a news correspondent for Al Jazeera America. She will work for their new show called "America Tonight," and will also produce hour-long documentary specials for the network. In a statement released by her publicist, O'Brien said she is looking forward to "beginning a relationship with Al Jazeera America, which has made a commitment to producing quality programming and pursuing underreported stories."
National
Orr Immigration Law Firm PC founder Allen Orr Jr. has been named to the International Who's Who of Corporate Immigration Lawyers 2013 by Who's Who Legal. Orr is one of 476 lawyers in 31 jurisdictions who can be considered leaders in their field. The Who's Who list is the fruit of months of research, generated by canvassing and analyzing the opinions of clients and lawyers from around the world. Nominees are selected based upon independent surveys of prominent general counsel and private practice lawyers. Only specialists who have met independent international criteria are listed. Orr Immigration Law Firm PC, is a minority-owned firm based in Washington, D.C., and focuses on U.S. corporate compliance as well as global representation and assistance on immigration issues.
Compiled by Juliana Norwood.