Obama's Africa trip was more than what it seems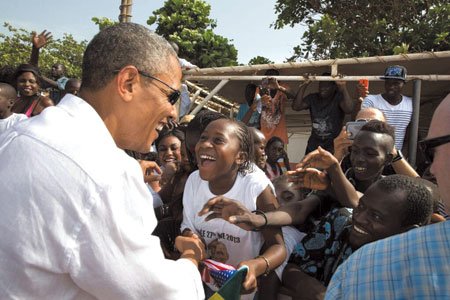 Called the Power Africa project, the president committed his administration to working with U.S. power companies and their partners in building a model of consistent electrical grid production that should bring power to more than 20 million African homes. This current deficiency is major in Africa, where only 4 percent of the electrical power in the world is used now on the continent, and most of that from hydro sources.
It has been said that, "… not a single country in Africa is meeting its current power needs, let alone its needs for the future. Most African countries are at least 50 percent deficient in meeting current power needs. Without electricity, Africa cannot hope to catch up to and find its rightful place in the global economy and educate its population. Crops must stay refrigerated long enough to get to market if modern agriculture is to develop.
Obama promised a financial environment that essentially will free up major financing institutions to help underwrite the necessary fiscal guarantees "that will allow a range of companies, large and small, to secure financing more easily to begin to invest in Africa." This will be a private market company-driven project which will use loan guarantees of the U.S. government, through the Export-Import Bank of the United States and through the Overseas Private Investment Corp. The direct financial support of the U.S. cannot currently match the commitments made to Africa by the Japanese and Chinese governments, but with the American private sector included, American commitments to Africa will finally compare favorably to that of any nation in the world. This is also an area in which the African Diaspora can firmly plant its feet.
3) President Obama committed his administration to the hosting next year, 2014, of a U.S.-Africa Summit of Leaders. Acknowledging that other nations have already done this (China, Japan and India), the president did not apologize for America not being first in this regard. He just said it was high time for the United States to do this now.
Go on, Mr. President. This will indeed be part of the legacy of your administration.
Professor David L. Horne is founder and executive director of PAPPEI, the Pan African Public Policy and Ethical Institute, which is a new 501(c)(3) pending community-based organization or non-governmental organization (NGO). It is the stepparent organization for the California Black Think Tank which still operates and which meets every fourth Friday.
DISCLAIMER: The beliefs and viewpoints expressed in opinion pieces, letters to the editor, by columnists and/or contributing writers are not necessarily those of OurWeekly.