Obama's Africa trip was more than what it seems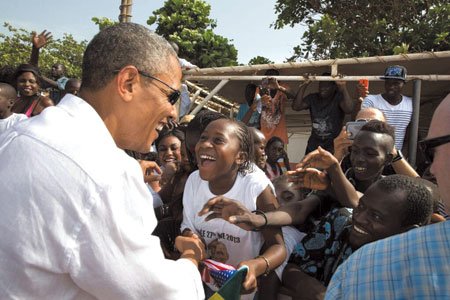 As measured by quantity and depth of media coverage, President Obama's recent trip to three African countries—June 26-July 2—did not amount to much. Newspapers and television gave the trip scant coverage, choosing instead to focus on the Paula Deen flap, the George Zimmerman-Trayvon Martin murder trial, and a host of other diverse stories.
When the media did pay attention, it was usually to report Republican criticism of the cost of the trip during the time of across-the-board cost cutting connected with sequestration, or to opine that President Obama was now making a desperate attempt to reclaim some of the glory of having been elected president of the U.S. with tons of worldwide and African approval but not having done much to sustain that support.
The Washington Post, for example, reported on the $60-100 million cost and logistics of the trip while Bloomberg News focused its coverage on the continuing lack of American business interest in African investments.
Virtually all of the media simply missed the point. Yes, one can compare Obama's Africa trip to Bill Clnton's 1998 trip, and to George W. Bush's two trips. But in that comparison, one must make the logical conclusion that here, finally, was the kind of American attention to Africa that could have tremendous positive consequences for Africa and America. Two political commentators even said that, when one actually looks at this trip, it "may prove to be the most important journeys ever undertaken to Africa by either a sitting or former president of the United States."
That's high-cotton praise for sure. Before Obama's trip, the U.S. really was not even a player at the table, compared to China, India, and Brazil, for that matter. Africa heard much talk, but saw little economic action from the U.S. in terms of supporting African development, principally through investment and trade, not loans and foreign aid, as had these other countries. China had last year invested more than $200 billion in Africa, and the U.S. only a fraction of that.
But what tangibly did the president get done in Senegal, South Africa and Tanzania, the three nations he visited?
He focused on three primary commitments that struck at the heart of Africa's present and future needs.
1) The first program he announced is aimed at developing new African leadership throughout the continent in institution building, economic analysis, and partnership collaboration. The U.S. will host thousands of emerging African leaders, placing them in internships in businesses, nonprofits, women's organizations and educational facilities. The costs of this initiative will mostly be funded, not by the U.S. government, but by the hosting institutions and companies.
Japan and China have both recently offered a similar type of program, but the Japanese focused on the development of industrial leaders, while the Chinese are mainly training engineers and technicians.
2) The second primary program is the announcement of a new engagement by U.S. energy companies to help build power capacity in Africa, especially those companies committed to renewable energy. The first step here was Obama's promise to provide $7 billion over the next five years for the development of reliable electricity in six African countries.