Kenny Ortega feared Michael Jackson's tour would fail days before death
AEG directed him to work with Conrad Murray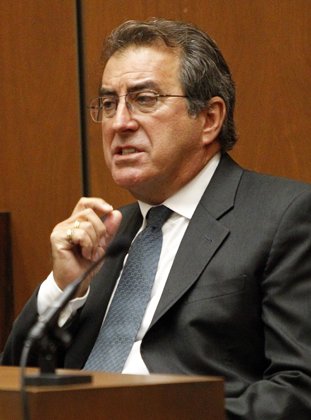 The AEG Live executives later told him they met with Murray and put him in charge of getting Jackson to rehearsals, Ortega said. The director said he was told that if he needed to know if Jackson was coming to a rehearsal, he should call the doctor. Ortega was given Murray's cell phone number, which he said he programmed into his own phone.
After Jackson was a no-show for another week, Ortega had a 30-minute conversation with Murray.
"I was told he was creating the schedule and the schedule wasn't working," Ortega testified. "He was my lifeline, so to speak." Ortega said he was venting his frustrations with Jackson and was "crying out."
Although Jackson showed up on June 19, he was "cold, shivering" and unable to rehearse, Ortega said. "On the 19th, I had more than a serious concern. I didn't think it was going to go on."
With just a dozen days left for rehearsals before the touring company moved to London for the opening, Ortega testified, he was worried "that all that we had worked for together, Michael and I—this dream, this desire—was going to fall away."
He sent a series of e-mails to AEG Live executives warning that Jackson needed "a top psychiatrist to evaluate him ASAP."
Ortega and Murray exchanged 11 calls that next day, according to phone records.
They discussed "a plan to get the schedule in order, because it was my feeling that we weren't going to make it," Ortega testified.
Jackson lawyers argue that Murray was influenced by a conflict of interest, created by his arrangement with AEG Live, that influenced his decision to continue the dangerous—and eventually fatal—propofol infusions to help Jackson rest for rehearsals.
He was in $1 million in debt and had abandoned his medical practice two months earlier to serve as Jackson's personal physician for the tour. If he failed to get Jackson to rehearsals, the shows might be postponed or canceled and he would be out of a job, the attorneys argued.
The trial, which is in its 11th week, is expected to conclude sometime in August. The Jackson lawyers said they should call their last witness next week, which would be followed by AEG Live presenting its defense.
Alan Duke | CNN News Wire