High Black unemployment continues 50-year trend
Urban League to launch local solutions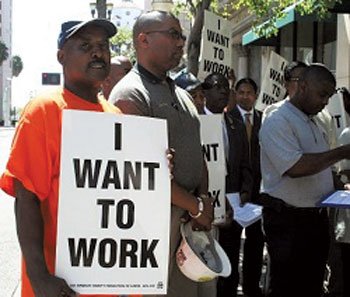 "It will be about what opportunities exist for businesses and employees. I make no distinction between the two," pointed out Rollins, who comes to L.A. after stints doing the same thing in New Orleans, just after Hurricane Katrina and Baltimore.
Like other leaders in the community, Rollins points to the upcoming rich landscape of infrastructure rebuilding that will take place in L.A. over the next few years.
"This is a prime opportunity to put locals back to work," said Rollins who is fiercely dedicated to being intentional about insuring that locals, including African Americans, benefit from the public and private sector money being spent on infrastructure projects such as the airport rebuilding and the Crenshaw light rail.
Rollins pinpointed manufacturing as one of the key areas he wants to address.
"Los Angeles is one of the largest manufacturing cities in the nation, but we don't act like we are. Manufacturing happens around the ports, Boeing (and other areas). The interesting thing about what is happening here in manufacturing, is that we have got to get our minds wrapped around it, and think about it as a real opportunity."
Rollins also believes that there are key opportunities available through the Affordable Care Act. He says there human capital needs connected with preventative care in clinics. According to Health and Human Services Secretary Kathleen Sebelius, there will also be a need to hire individuals to enroll new people in health programs. A series of recent grants were given to states to help with this process.
Rollins also notes that Los Angeles is an entertainment Mecca, and he intends to make sure that opportunities are provided in the business of entertainment including moving making, and music. These include attracting and retaining jobs and businesses in these arenas.
Rollins says the launch of Jobs Rebuild Los Angeles is about a month away. He also stresses that as much as the campaign is about creating jobs, it is also about developing policy that will create jobs; that will invest in businesses that will create jobs.
The Urban League president/CEO says the organization is trying to work in collaboration with organizations such as PV Jobs and the NAACP to launch Jobs Rebuild Los Angeles.
On the national level, the NAACP's senior director of economics, Dedrick Asante-Muhammad, said that Black unemployment is such a huge issue that it will take movement on all fronts—public and private, national, state, and local to effect change. And one of the biggest obstacles that must be addressed is that the high levels are not even considered a crisis outside the Black community.
Among the efforts the 104-year-old civil rights organization is pushing are conducting a series of a job fairs around the country and at its national convention July 13-17 in Orlando, Fla. There is also a job button on the group's web site.
Additionally Muhammad says the organization will continue to release its Opportunity Diversity report cards. The first one, released in November 2012, looked at the hotel lodging industry. The next one will address banking, and according to the senior economic director, the NAACP follows up the release of the report by working with corporations to see where changes need to be made in diversity efforts. He says this includes in employment, procurement and other areas.
"It's pretty pathetic in terms of procurement what percentage of corporate dollars go to African American businesses," Muhammad points out.
The NAACP is also working with federal agencies such as the Department of Transportation to insure that their diversity goals in terms of procurement and contracting can be better met.
"There are millions of dollars left on the table that could go to DBEs," Muhammad says.
Finally, the NAACP is working with organizations on national initiatives such as the Aug. 24 commemoration of the 50th anniversary of the March on Washington.