High Black unemployment continues 50-year trend
Urban League to launch local solutions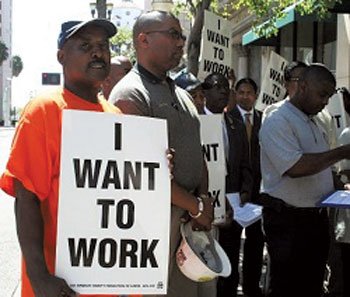 The Black unemployment rate for June 2013 continues at 13.7 percent, which according to the Bureau of Labor Statistics is essentially unchanged from the May 2013 rate of 13.5 percent; the April rate of 13.2 percent and the 13.3 percent rate for March.
For the nation as a whole, unemployment was 7.6 percent in the month of June; this was unchanged from May, when the national unemployment rate again stood at 7.6 percent.
Stephen Pitts, Ph.D. writes in his monthly Black labor newsletter that the rates for African Americans were broken down in the following way: for Black women, unemployment was 12.9 percent (an increase from 12.3 percent in May); For Black men, unemployment was 14.6 percent (a decrease from 14.8 percent in May). Black teens (16-19), faced an unemployment rate of 43.6 percent (up from 42.6 percent in May). He further broke it down: Black female teens at 35.3 percent (a decrease from 37.8 percent in May); and Black male teens at 52.9 percent (an increase from 48.5 percent in May). Teen unemployment rates are extremely volatile from month to month.
According to the Economic Policy Institute (EPI), this high rate of African American unemployment continues a 50-year trend that was part of the impetus for the 1963 March on Washington for Jobs and Freedom.
"Civil rights activists were keenly aware that Blacks were suffering disproportionately from high unemployment, and, therefore, one of the demands of the march was for a jobs program that would provide a job to every American who wanted to work," writes Algernon Austin in a June EPI report. He further notes that America has not yet achieved this goal and Blacks have persistently endured what can be considered a "permanent recession."
Austin is a sociologist and director of the Race, Ethnicity, and the Economy program at EPI. He further points out in the EPI June report that African Americans are actually at recession-level unemployment and have been so for about five decades. The average annual unemployment rate for Blacks from 1963-2012 was 11.6 percent; it was and 5.1 percent for Whites (which included Hispanics up until 1979). The recession unemployment rate for those years was 6.7 percent. In only one year, (1969), did the Black unemployment rate dip slightly below the recession average of 6.4 percent. In response to this continued high African American unemployment rate, the National Urban League in May announced the roll-out of a five-year, $100 million, 50-city campaign to change this picture. Called Jobs Rebuild America, the campaign focuses on about a dozen programs, many of which target certain segments of the labor force, including young adults and job seekers 55 and older, who often encounter difficulty finding work. Los Angeles is one of the 50 cities involved, and the effort here will focus on two programs—Urban Youth Empowerment Program (UYEP) and entrepreneurship.
But according to Nolan Rollins, the newly installed head of the Los Angeles Urban League affiliate, the effort in the City of Angels is about more than just entrepreneurship and employment of at-risk youth. It will focus on economic and workforce development.