NTSB urges caution on dispensing blame in Asiana crash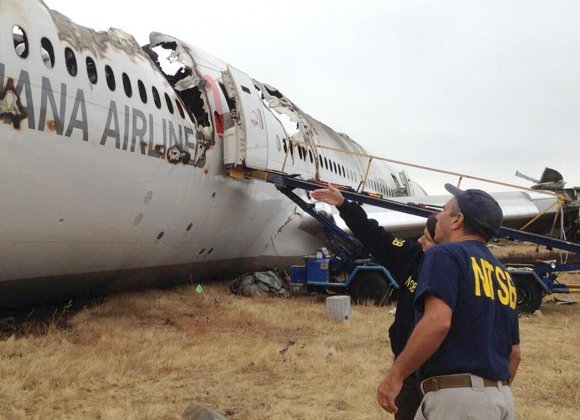 SAN FRANCISCO, Calif. — The chief of the National Transportation Safety Board cautioned on Wednesday against jumping to any conclusion about what may have caused the crash on Saturday of Asiana Airlines Flight 214 in San Francisco.
"At this point in the investigation, we are not reaching any conclusions," Deborah Hersman told CNN. "We're gathering factual information. We know a lot, and what we need to do is correlate all that information. We need to put it together and see what it tells us."
Hersman cited "great cooperation" from the pilots of the Boeing 777 in interviews on Monday and Tuesday with investigators.
Asked about the failure of investigators to take blood samples from any of the four pilots — all of whom are Korean — to check for possible drug or alcohol use, she said investigators were checking on related requirements for foreign carriers operating in the United States.
Such tests would be required within a few hours of any crash involving a U.S. pilot in the United States, she said.
But, she added, "I don't have any reason to believe that anything is being withheld." She noted that the pilots stayed at the airport "for many hours after the accident."
Mary Schiavo, an aviation lawyer and former inspector general for the U.S. Department of Transportation, called the lack of blood testing a failure by investigators.
"Whenever anyone enters this country, unless they have diplomatic immunity, you are subject to the laws of the United States," Schiavo said Wednesday on CNN's "New Day." "I think they should have asked, and frankly demanded, that they be drug and alcohol tested."
South Korea may change training rules
South Korea has started a sweeping inspection of eight airlines and may reconsider its rules about training flights, its aviation authority said Wednesday.
"Because the plane that crashed was an Asiana Airlines aircraft, there is a special inspection on eight Korean airlines," said Choi Jeong-ho, head of South Korea's Aviation Policy Bureau. He did not say what officials sought to find out.
"After the inspection, we will go through various specialists' reviews and come up with a comprehensive measure with regards to air safety," he said. "In that process, we will also discuss rules regarding training flights, if needed. However, this does not imply that we see a problem with our current rules."
The pilot at the controls of Asiana Airlines Flight 214 had nearly 10,000 hours of flight experience and had flown other Boeing and Airbus jets, but he was in his company's training phase to fly the 777, said Hersman. A first-time pilot instructor, a captain, was with him.
Hersman said the pilot flying the 777 had flown 10 legs and had about 35 hours of air time with the jet, which put him about halfway through Asiana's training requirement of 20 legs and 60 flight hours when the crash landing occurred.
Landing gear struck seawall
She offered new details Tuesday about the sequence of events in the crash.
The plane's main landing gear struck the seawall off the edge of the San Francisco airport runway, Hersman said. "Sections of the cabin ... are found very early in the debris field," said the NTSB chief. "You can see aircraft parts, gallery materials, newspapers, magazines and flooring."