Brakes key in investigation of train explosion in Lac-Megantic
At least 13 people are dead and about 37 are unaccounted for
CNN News Wire | 7/9/2013, 1:38 p.m. | Updated on 7/9/2013, 2:22 p.m.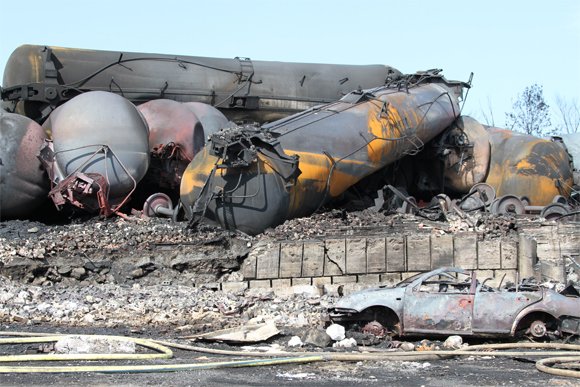 Canadian police have opened a criminal investigation into a train crash in Quebec that left 15 people dead and 35 missing, provincial police Capt. Michel Forget said Tuesday.
LAC-MEGANTIC, Quebec — It keeps coming back to the brakes of that driverless train.
Questions abound regarding the train explosion that wiped out a swath of Lac-Megantic's downtown, killing 13 people. Investigators want to know if the train's brakes were disabled before it barreled at a dangerous speed into the Quebec town, derailed and burst into a deadly inferno.
Firefighters in the nearby town of Nantes put out a blaze on the train hours before it rolled into Lac-Megantic early Saturday. Ed Burkhardt, chief executive officer and president of Rail World, the parent company of the Montreal, Maine & Atlantic Railway, told media outlets there's evidence the engine powering the brakes was shut down at some point.
Pressed to elaborate by CTV, Burkhardt wrote Tuesday in an e-mail exchange, "We are now aware the firefighters shut down the locomotive. By the time (Montreal, Maine & Atlantic) people found out, it was too late."
In earlier comments to the Montreal Gazette, he said the matter needs further investigation, and his company has begun an internal inquiry.
"There are a number of missing pieces here," Burkhardt told the paper, saying he didn't suspect "the event was malicious or an act of terrorism."
The company did not immediately return phone calls from CNN about the report.
Asked during a news conference if authorities suspected sabotage, Ed Belkaloul, manager of rail operations for Canada's Transportation Safety Board's eastern region, said there was no evidence to that effect.
The train began rolling — unbeknownst to dispatchers and rail traffic controllers — about an hour after the fire in Nantes was reported. It picked up speed because the track between Nantes and Lac-Megantic lies on a 1.2% downward slope, which Belkaloul said is relatively steep.
"On the principle lines, as soon as there is an uncontrolled movement, the controllers of rail traffic can see that there is an uncontrolled movement," Belkaloul said. But on smaller lines like the one between Nantes and Lac-Megantic, "there is no way for the dispatcher or the controller to realize that there is an uncontrolled movement."
Seventy-two tanker cars carrying crude oil jumped the track early Saturday, setting off a huge fireball. At least 37 people are missing. Officials in the town 130 miles east of Montreal say some victims were likely vaporized by the intense blaze, which burned for 36 hours after the crash.
The fire is under control, authorities said Tuesday morning. Of the roughly 2,000 residents evacuated, about 1,200 will be permitted to return home immediately. Another 800 cannot go back yet, the officials said.
Notices were placed on doors instructing residents how to clean and air out their homes. Officials suggested throwing out any food and boiling all water because the city's water treatment plant is not operational.
Firefighters are now using infrared detectors to find any remaining hot spots in the wreckage. They've stopped hosing down the area because it was inhibiting the investigation, officials said.