Forty people remain missing after runaway train crashes, explodes in Canadian town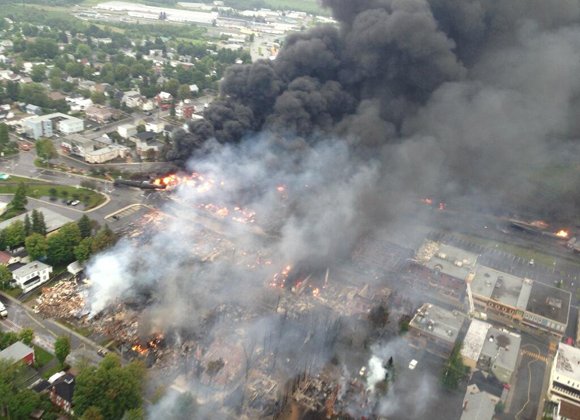 LAC-MEGANTIC, Canada — Authorities said they hope to search more areas Monday for about 40 people still missing after a runaway train plowed into an eastern Canadian town, setting off massive explosions when the train's haul of crude oil ignited.
At least five burned bodies have been found, but "we know that there will be many more" deaths, Quebec provincial police Lt. Michel Brunet said Sunday.
The 73-car train destroyed the downtown area of Lac-Megantic, Quebec, on Saturday. The crash and series of explosions flattened dozens of houses and buildings and forced nearly 2,000 people to evacuate from the town 130 miles east of Montreal.
Lingering fires and the risk of more explosions have impeded the rescuers' search for the dozens still missing, the Canadian Broadcasting Corp. reported. One place deemed too unsafe to search is Musi-Cafe bar, which was destroyed in the crash and was believed to have had customers at the time, CTV reported.
Firefighters are working to put out hot spots, and authorities hope doing so will let them search Musi-Cafe and other areas Monday, Quebec provincial police Sgt. Benoit Richard told reporters.
"There has been a lot of work that's been done on the scene during the night, and hopefully we will get more areas that we can search during the day. But that of course is under the firefighters' responsibility," he said.
Canadian Prime Minister Stephen Harper described the town as a "war zone."
"There is not a family in this area that is not touched by this," Harper told reporters after touring the destruction Sunday.
Brunet said police are investigating whether foul play was involved.
"Right now, we cannot say that it is a criminal act. We only can say we are looking at it as if it was," the police spokesman said.
How did it happen?
The company responsible for the train said an engine shutdown may have released air brakes holding the train in place.
The train had stopped for a crew change Friday night in a station about seven miles from Lac-Megantic, the Montreal, Maine & Atlantic Railway said. The train's engineer had "tied down" and checked into a motel.
"We don't know if the brakes were properly applied to the train, and we haven't been able to get into the fire area in order to inspect," Edward Burkhardt, president and CEO of Rail World Inc., the railway's parent company, told CTV.
Investigators with the Transportation Safety Board of Canada found the locomotive event recorder and planned to analyze it for information on throttle position and speed, among other data.
The Quebec disaster comes on the heels of a handful of other mishaps involving trains transporting oil in Canada, prompting some in the Canadian government to criticize what they say is a trend allowing rail lines to police themselves. Among the incidents:
Four Canadian Pacific rail cars carrying flammable petrochemicals used to dilute oil derailed on a flood-damaged bridge spanning Calgary's Bow River in June, according to the Calgary Herald.
In another incident involving Canadian Pacific, five tankers containing oil derailed in rural Saskatchewan in May, spilling 575 barrels of crude, the Toronto Sun reported.
The company also made headlines a month earlier when 22 rail cars derailed near White River, Ontario. Two of the cars leaked about 400 barrels — almost 17,000 gallons — of oil, The Globe and Mail in Toronto reported.
Canadian Pacific was also involved in a stateside spill in March. Fourteen cars on a milelong, 94-car train derailed in western Minnesota, about 150 miles northwest of Minneapolis, spilling about 30,000 gallons of crude, Reuters reported.