Southland celebrates the spirit of independence
Freedom for the nation and a day off from work for many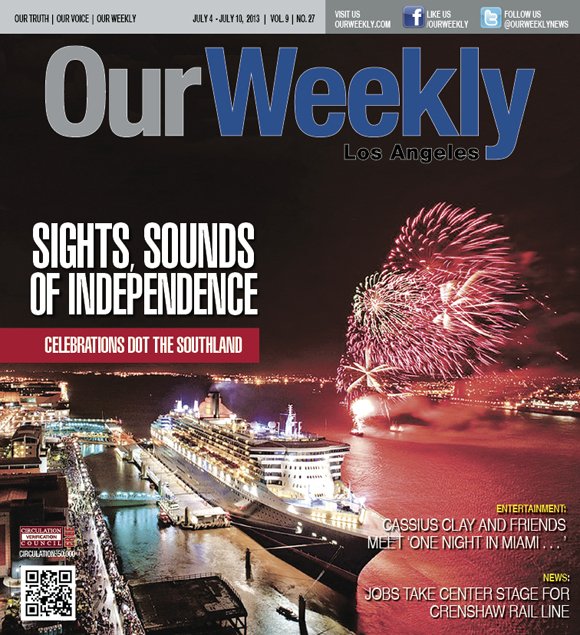 The sights and sounds of celebration will illuminate greater Los Angeles today as dozens of July Fourth activities—from small neighborhood barbecues to historic parades and popular fireworks displays—mark America's birthday. It is an opportunity to pay tribute to the nation's founding 237 years ago in New England, and also a special time for communities to band together and reflect on America's active service personnel who are striving and sacrificing daily to maintain the ideals of "… life, liberty and the pursuit of happiness."
Here are a few events scheduled this afternoon and evening each designed to exclaim, "Happy Birthday, America!":
• It is probably the biggest fireworks show on the West Coast. The Rose Bowl in Pasadena will host "Americafest 2013," with a festival at 2 p.m. in the parking lot. After all of the hot dogs and burgers have been consumed, gates will open at 6:30 p.m., with the yearly concert scheduled for 7 p.m. The famous fireworks show starts promptly at 9 p.m. Tickets are $13 each, with children under 7 years old, and military personnel admitted free. Parking is $20. For more details, call the Rose Bowl at (626) 577-3100.
• Another fireworks show at a famous stadium will take place tonight at the Los Angeles Memorial Coliseum. The venerated stadium will host its 11th annual Fireworks Extravaganza on the east lawn beginning at 9 p.m. Also, look for music and giveaways from radio station KJLH-FM at 3 p.m. on the south lawn. Councilmember Bernard Parks (8th District) will kick off the day's festivities at noon with "Jazz on the Hill" at Norman O. Houston Park, 4800 S. La Brea Ave. There will be a selection of food vendors, arts and crafts and activities for children. The California African American Museum will also host events from 6 to 8 p.m. In past decades, the Coliseum hosted a yearly fireworks show until budget cuts eliminated it in the late 1990s. Parks helped spearhead the return to this annual South Los Angeles event. For more information, call (213) 745-0139.
"I'm really excited for the 11th annual Fireworks Extravaganza this year at the Coliseum," Parks said. "Pyro Spectaculars is doing the show, and it's going to be phenomenal. I'm proud to, and will continue to, provide the fireworks show to the community—to provide a safe and fun place for all to enjoy the Fourth of July holiday."
• The 109th annual Huntington Beach Parade will begin at 10 a.m. today. It is the state's oldest and largest July Fourth parade, this year beginning at Pacific Coast Highway (PCH) and 8th Street, proceeding south on PCH, where it will turn left on Main Street and continue to Yorktown Avenue. There is never a cost for the parade, which this year, will include celebrities Lou Ferrigno, Nicole Eggert, Tim Conway Jr. and Gary Bryan of radio station KRTH. Teenage star Karan Brar from the Disney Channel series "Jessie" will be grand marshal. The parade is part of the Pier Plaza Festival, continuing through July 7. Other events scheduled for today include the Huntington Beach Kiwanis Club pancake breakfast at Lake Park, beginning at 6:30 a.m.; the Surf City 5-K Run and Fitness Expo from 6 to 10 a.m. at Worthy Park (Main and 17th streets), and the famous fireworks show at Huntington Beach Pier at 9 p.m. Parking is limited and parade-goers will need time to walk to the route and find a good viewing location. Officials suggest bringing cash for nearby parking lots. For details, call (714) 536-5486.