No DNA from Trayvon Martin on George Zimmerman's gun, analyst testifies
Firearms expert says shot could not have been accidental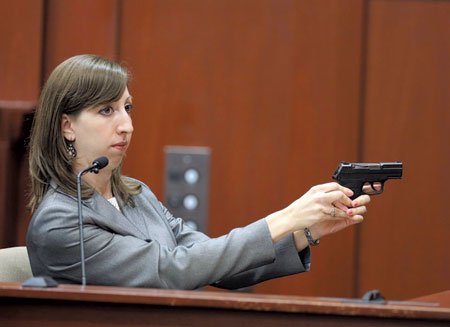 Self-defense laws were "something that I constantly iterated … it was something that I think the students really wanted to know about, it was so practical, they were very much engaged in class discussion," Carter said. He called Zimmerman "one of the better students" in his class and said he gave him an A. He also said he taught his students about "imperfect self-defense," which he said means "the force that you are encountering, you meet that force disproportionately—excess force. Like a gunshot."
Prosecutors say that while evidence showing that Zimmerman wanted to be a cop isn't "bad," they hope it will give jurors some insight into his thought process the night he shot and killed Martin. They also suggest that his studies in criminal justice show Zimmerman knew how to testify and talk to police.
Scott Pleasants, another Seminole State College teacher, testified Wednesday via webcam about the criminal investigations class in which Zimmerman was a student. He says that while the course book covered profiling and how to testify as a witness, they never actually discussed it in class.
A firearms expert with the Florida Department of Law Enforcement, Amy Siewert, examined Zimmerman's gun and said he had one bullet ready to fire in the chamber as well as a fully loaded magazine when he fatally shot Martin.
"They're not much use if they're not ready to fire, are they?" asked O'Mara.
"No," said Siewert.
The defense got her to agree that many law enforcement agents carry fully loaded weapons that are ready to fire. Siewert also showed jurors how the gun wouldn't fire accidentally; the trigger has to be pulled. But Siewert wouldn't go so far as to call the loaded gun "safe," saying it's a matter of personal preference.
Amanda Sloane and Graham Winch | HLNtv.com/CNN News Wire