Agency projects hundreds of jobs for South L.A. residents from Crenshaw line
Some have concerns as to whether the African American community will get its share
Lena Coleman | OW Contributor | 7/4/2013, midnight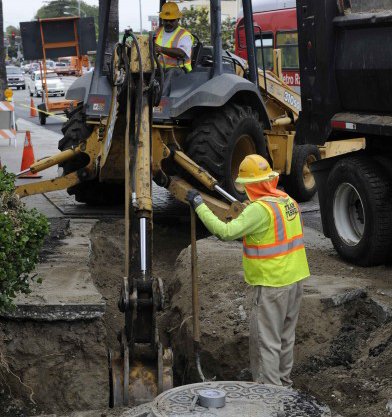 The construction of the Crenshaw/LAX rail line is projected to create 7,500 construction jobs with at least 3,000 of the workers coming from South Los Angeles and other impoverished areas.
On Thursday, June 27, the Metropolitan Transportation Authority board approved a $1.27 billion design/build contract with Walsh/Shea Corridor Constructors to build the Crenshaw/LAX Transit Corridor Project.
The approval will be the catalyst for the start of a Construction Careers policy designed to put more South L.A. residents to work.

The 8.5-mile light rail line will run between the Expo Line, which travels east-west along Exposition Blvd., and the Metro Green Line, offering "an alternative transportation option to congested roadways and significant environmental benefits," according to the MTA. The MTA said utility location is already under way and heavy construction is expected to start in spring 2014.
"By connecting these communities to the rest of the county, we hope that it will draw more business and economic development opportunities, resulting in more jobs for the area," said Jackie Cornejo, Construction Careers Project director at Los Angeles Alliance for a New Economy (LAANE).
The length of the construction jobs depends on the worker's trade, said Cornejo, who indicated that once their work is complete on the Crenshaw/LAX line, workers will be referred by their union to other job sites covered by LAANE policies to "ensure continuous employment." Cornejo said the project is publicly funded, so state mandated wages and benefits are based on trade, but the wages are well above minimum wage.
"We hope and expect that Walsh/Shea will adhere to the standards set out by the Construction Careers Policy at Metro, ensuring that our communities have a shot at a career in the construction trades and adhere to the wage and benefits required," she said.
"Metro is the first transit agency in the country to adopt a Construction Careers policy that targets communities that were hit the hardest by the recession and most in need of good, new jobs," said Allison Mannos, a LAANE communications specialist, in a statement. "The Construction Careers policy requires that 40 percent of the jobs created go to workers from areas with high unemployment and at least 10 percent to disadvantaged workers, which includes veterans and those who have received public assistance."
However, Drexell C. Johnson, executive director and founder of the Young Black Contractors Association Inc., relates this story about the contractor:
"Approximately four months ago, I went to Chicago to meet with Walsh's office," he said. Johnson said he met with an African American who was the outreach coordinator, compliance officer, and human resource manager who handled all these areas in all 50 states without an assistant.
"I told him with all the outreach that you guys claim you do, why haven't you met with us?" said Johnson. "He said 'we could not do that because the company didn't have the job yet.' I said, 'It's apparent you're going to get the job because you're the low bidder.' But even today he hasn't called me back," said Johnson. "He told me the Urban League is the conduit responsible for their outreach. My point is, it's the same old game being run by these big contractors. But if they think they're going to build the Crenshaw project right in front of the Young Black Contractors' office without Black labor they have another think coming."