Ourweekly top news stories of 2013
12/26/2013, midnight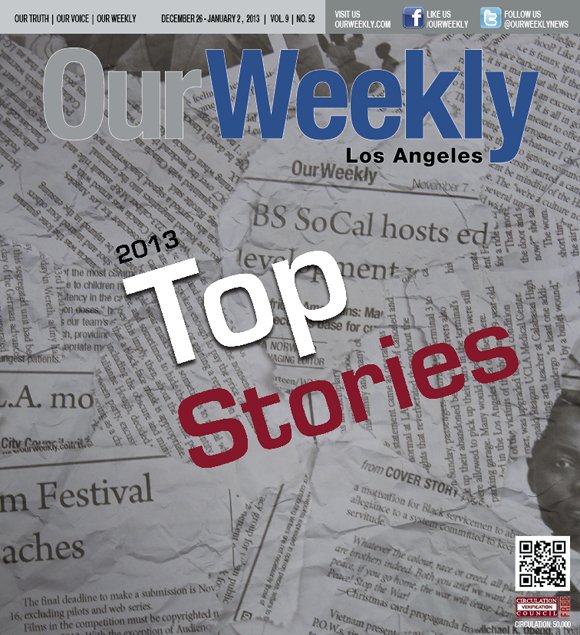 As we reflect on 2013 news stories, there were those that made us gasp in disbelief, others that made us jump for joy, and hundreds of articles in between. The OurWeekly editorial team has created mini-versions of some of the most talked about local and national news stories in the following pages. We wish you and your families a safe and happy holiday season. –OW
Leimert Park may be fading as a Black cultural hub
New owners forcing out tenants
By Stanley O. Williford
OW Editor
After a noble fight by some to win an underground station in Leimert Park as a compliment to the area considered the cultural hub of Black Los Angeles, those whose businesses have helped to make the area the cultural hub it is may not be around to enjoy the benefits.
A number of Black businesses in the Village have been notified that their leases won't be renewed.
One such business is Jinga Jinga at 3347 1/2 W. 43rd Place. "It's not an eviction," said Nate-El. "They're not renewing our lease. They are forcing us out."
His lease was up in October.
The purchaser of the building is the West 43rd Place LLC while MBA Mascot LLC is the buyer of another building in the block. However, several business owners believe both properties are owned by the same entity.
Obinne Emmanuel Onyeador, owner of African Heritage & Antique Collection at 4340 Degnan Blvd., said that everybody who owns businesses there may have to move. Onyeador said six businesses adjoined to the Vision Theater will also have to move. "They cleared out the property on this side. The whole Leimert Park is threatened by this. Property owners are buying it all up. We won't see any benefit from the rail project, because we're being forced to move."
FBI: Navy Yard shooter 'delusional'
Claims 'low frequency attacks' drove him to kill
By Greg Botelho and Joe Sterling
CNN News Wire
Aaron Alexis was under "the delusional belief that he was being controlled or influenced by extremely low frequency electromagnetic waves" before he embarked on a bloody shooting rampage at the Washington Navy Yard, an FBI official said.
The 34-year-old contractor, who until a few years ago had served in the Navy, spelled out this belief—with the words, "My ELF weapon" — in the sawed-off Remington 870 shotgun he brought into the military facility's Building No. 197 on the morning of Sept. 16.
"ELF" refers to low-frequency electromagnetic waves, a technology used for submarine communications that conspiracy theorists believe the government employs to monitor and manipulate unsuspecting citizens, the FBI said.
"Ultra low frequency attack is what I've been subject to for the last three months," read a message obtained by federal authorities from Alexis's thumb drives, phones and computers. "And to be perfectly honest, that is what has driven me to this."
"This" was a shooting incident that left the Navy, Washington and the nation in shock. Alexis went on to kill 12 people that day and wound four others.