When You Give You Receive!
Unique California Lottery holiday promotion in full swing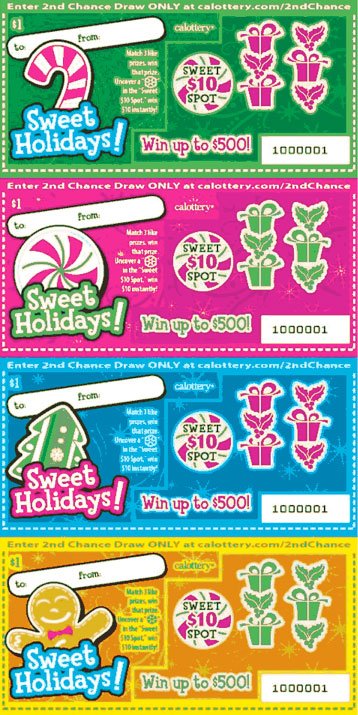 Californians who purchase Scratchers® this holiday season have a golden opportunity to add a little more jingle to their gift by sealing a special decorative envelope with a creative video.
Customers who purchase any Scratchers game at participating retailers will receive a free Golden Greeting gift envelope. They can then scan the QR code on the envelope with a mobile device and upload a short (12-second maximum) personal video, or select a generic greeting to send to friends and family.
Recipients simply scan the QR code, or go directly to the Golden Greeting website (http://goldengreeting.calottery.com/) and enter a retrieval code that the giver writes on the Golden Envelope. The four-character retrieval code is provided to the giver after their video is approved.
The Lottery wants to assure all personal videos are "family friendly," so they will be reviewed first for appropriate content, and then uploaded if approved.
The process can take up to 24 hours before the video is "live" and available for viewing. (You can read the terms of service, which are listed on the Golden Greeting website).
Anyone can participate in the creation of a Golden Greeting video, however you must be 18 years or older to purchase Scratchers or any other California Lottery product. For more information on how to give a "Golden Greeting," plus to watch an example of a personal greeting video, check here.
This month, the Lottery is offering a family of $1, $2, $3 and $5 holiday Scratchers to fit all budgets. Not only are the $1 Sweet Holidays Scratchers perfect gifts to stuff into those Golden Greeting envelopes, they can even be used as gift tags.
The "When You Give, You Win" holiday promotion is part of the Lottery's continued effort to give out more prizes, create more winners and earn more money for California public schools. This past fiscal year, the sale of Lottery products generated $1.28 billion for students—the 13th consecutive year that more than a billion dollars was distributed to public schools throughout the state. Although a modest amount once divided between 1,600 public school districts, teachers and administrators count on these funds to continue critical learning programs, purchase equipment and even pay teacher salaries.
The mission of the California Lottery is to provide supplemental funding to California schools while simultaneously supporting local communities. More than 96 cents of every dollar spent by our players goes back to local communities in the form of contributions to public schools and colleges, prizes and retail compensation. The California Lottery urges its customers to play responsibly and within their budgets. If you feel you have a gambling problem, or know someone who does, you can get help at (800) GAMBLER.