Holiday DUI arrests are in decline
Checkpoints set in Lancaster, Palmdale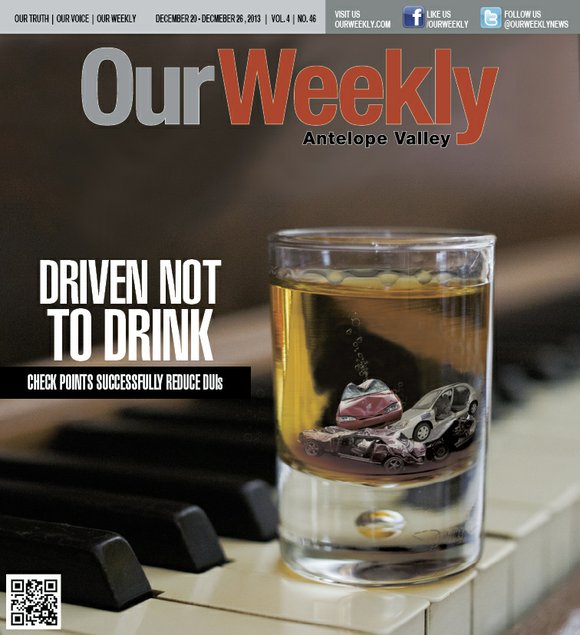 Law enforcement agencies nationwide are preparing for impaired drivers this holiday season. Whether you're coming home from the office Christmas party, had a drink before embarking on a shopping trip, or even just a beer or glass of wine before making a quick trip to the market for the holiday meal, be warned that the Los Angeles County Sheriff's Department (LASD) will be out in force through the New Year looking for persons willfully driving under the influence.
With December designated as "National Impaired Driving Prevention Month," the LASD in Lancaster will conduct a Driving Under the Influence (DUI)/Driver's License Checkpoint tonight from 6 p.m. to 2 a.m. at an unknown location. The LASD has found that the deterrent effect of DUI checkpoints has become a proven resource in reducing the number of persons killed or injured in alcohol- or drug-involved crashes. Research conducted by the National Highway Traffic Safety Commission (NHTSA) reveals that crashes involving alcohol drop by an average of 20 percent when well-publicized checkpoints are conducted on a regular basis.
Palmdale Sheriff's station will also conduct a DUI/Driver License checkpoint tonight from 6 p.m. to 2 p.m.
The checkpoints are working statewide. Last year this time, holiday DUI arrests were down by 22 percent compared to 2011, according to reports by the Sheriff's Department as well as the California Highway Patrol (CHP). Slogans such as "Drive Sober or Get Pulled Over," "Buzzed Driving is Drunk Driving," "Avoid the 100" or "Click It or Ticket" (regarding seatbelts) remind motorists of the steep penalties involved in a DUI arrest, but, more importantly, have helped prevent needless tragedies that can occur in an instant when a drunk driver cannot navigate the roadway and ends up killing either themselves, their passenger(s) or an innocent bystander. The CHP and L.A. County Anti-DUI Task Force will enforce its campaign through Jan. 1, 2014.
"DUI checkpoints have been an essential part of the phenomenal reduction in DUI deaths that we witnessed since 2006 in California," said Christopher Murphy, director of the LASD Office of Traffic Safety. "But since the tragedy of DUI accidents account for nearly one third of traffic fatalities in the area policed by the Los Angeles County Sheriff's Department, we need the high visibility enforcement and public awareness that checkpoints provide."
On Dec. 15, the Sheriff's Department announced that after a three-day period, officers representing 100 County law enforcement agencies had arrested 495 persons for DUI, up from 456 such arrests during the same time-span in 2012.
Local deputies will evaluate drivers passing through the checkpoint for signs of alcohol and/or drug impairment. Deputies will also check drivers for proper licensing, while striving to keep the stop as brief as possible. Specially trained officers will be available to screen those motorists suspected of drug-impaired driving.
According to Mothers Against Drunk Driving (MADD), if you are detained and then arrested for DUI, expect a night in jail, license suspension and increased insurance costs. Add to these fines, DUI classes and other expenses that could make it your most expensive "high" ever. The LASD reports that a DUI arrest and conviction can cost from $9,000 to $24,000, including bail, legal fees, loss of work and court-ordered alcohol education programs. If a child riding with you is under 15 years, expect to pay even more fees.