FBI hunts Bad Beard Bandit; Claire Davis vigil held; Griffin High quarterback burglarized
Florida
Fifty-four years after the Duval County, school board ignored the wishes of students and named a Jacksonville high school for a controversial Confederate general, the school will get a new name. The school board voted 7-0 Monday to change the name of Nathan B. Forrest High School after the current school year ends. Officials will choose between the names Westside and Firestone in January. When it was opened in 1959, in the aftermath of the Supreme Court decision that required racially integrated public schools, district officials chose to name the school after Forrest—a former slave trader and Confederate commander whose troops were involved in the massacre of Black Union soldiers at a Tennessee fort. He later served as the first "Grand Wizard" of the Ku Klux Klan. "For too long and too many, this name has represented the opposite of unity, respect, and equality—all that we expect in Duval schools," board member Constance Hall said in a statement from the district. The name-change was spearheaded by parent Ty Richmond, whose Change.org petition amassed 162,150 signatures.
Georgia
Griffin High School's quarterback was playing at the sate championship Saturday with his family cheering him on. Meanwhile, thieves played a game of their own, targeting Jaquez Parks' house. Parks led the Griffin Bears to victory at the Georgia Dome, taking their first title game in 35 years. As he and his family celebrated, burglars broke in the back door of the Parks' home with an ax, which the thieves left behind.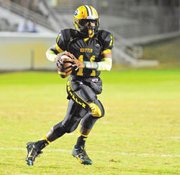 The family said they ransacked the place, taking Christmas gifts, a couple of flat screen TVs, as well as Parks' iPad, computer and video game system. Parks said he was in such a good mood, ready to celebrate the team's win, but looking at the mess the thieves left in his room, with his belongings gone, his mood quickly changed. Parks added they would look past the break-in as a family and, "just put it in God's hands. I hope they just think about what they did." Friends and fans have already stepped up with donations to help the Parks replace the gifts and some of the other items stolen. The team's booster club set up an account in his name here: https://squareup.com/market/griffin-high-school-touchdown-club/parks-family-donation
Illinois
A bride is in mourning. Hours after his wedding, groom William Riley Knight, 49, of Crown Point, Ind., was struck and killed while trying to help a stranded motorist. "I went from a being a newlywed to a widow in less than 48 hours—the highest high to the lowest low," the bride told the Chicago Sun-Times on Sunday. "It's a blur," said new wife, Nikki Knight." The couple had just left their reception, according to Patti Van Til, a spokeswoman with the Lake County, Ind., Sheriff's Department and Nikki was still in her wedding dress. Knight was acting as a good Samaritan on Saturday night when he stopped to assist Linda Darlington, whose vehicle had slid into a ditch along a road in Crown Point. He climbed out to help while his wife waited in the car. "He said, 'We've got to stop, it's late and they need help,'" Nikki, a registered nurse, told the Chicago newspaper. Her husband and Darlington, 42, were struck multiple times as they stood by the side of the road. They were first hit by one vehicle, followed by two more. Darlington was also killed.
Compiled by Juliana Norwood. CNN News wire contributed to this report.