Toys of the Diaspora
They're more than just playthings
Gregg Reese | 12/19/2013, midnight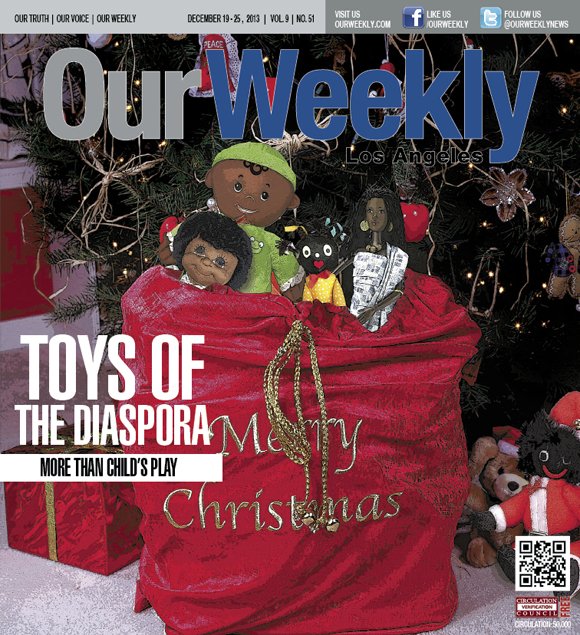 The next stage in the distribution of uplifting toys came under the umbrella of Pan Africanist Marcus Garvey's mantra of Black determinism. In 1919, he enlisted the Berry & Ross Toy Company to manufacture dolls of color.
Unfortunately, the company folded in 1922. Allegedly the firm was a front set up by J. Edgar Hoover to watch Garvey.
Ironically, the next stage in the evolution of positive doll imagery came through the work of two psychologists, a husband and wife team Kenneth and Mamie Clark, who are somewhat similar to the central figures to the T.V. drama, "Masters of Sex" aired on SHOWTIME.
Howard University alums, the Clarks demonstrated in a series of experiments that, given a choice, Black children showed a marked preference for fair complected dolls over dark skinned ones. This landmark finding documented the damage segregation imposed on the psyche of developing children, and was an influence on later legal decisions, especially the 1954 Brown vs. Board of Education.
Their work added validity to the notion that playing with dolls that looked like the children was important.
Over the years, the experiment has been repeated, memorably in 1985 and again in 2006, long after the fall of Jim Crow, yet the results remained the same.
So much for an increase in ethnic self-esteem!
Debbie Britt, founder and curator of the National Black Doll Museum in Mansfield, Mass., and a professional daycare provider, conducted her own version of this test in the 1990s with adults. Again, the results were similar.
Just as myths can speak volumes more about the essence of a people than meticulously documented history, the accessories utilized in daily activity can tell us more about the people using them than a direct interview of sustained length.
In the decades that followed the doll tests, isolated individuals recognized the gap in choices of toys available to minority children and moved to correct it. Caucasian businesswoman and activist Sara Lee Creech, used her social prominence and friendships with bigwigs like diplomat Ralph Bunche, educator Mary Bethune Cookman, author Zola Neale Hurston, athlete Jackie Robinson, and Eleanor Roosevelt to support her production with Ideal Toys, of a line of anatomically and ethnically correct dolls dubbed "Saralee," in the 1950s. Weak sales condemned this project shortly after its inception.
A doll like me
Museum owner Britt's personal involvement with doll representation began during her impressionable years at a Massachusetts elementary school. Earmarked to help implement the advance of desegregation and the only Black child in her class, she experienced a defining moment in 1968 when "… a teacher told me I was a monkey, and that I wouldn't aspire to anything."
Thus began a life-long quest for validation, culminating in the collection of thousands of dolls and the establishment of her own museum devoted to models focused on the ethnic representation of the human figure.
Britt's 1968 "coming of age" occurred during an especially volatile era in America's cultural and social development. This period was highlighted by a push to provide toys with an Afrocentric slant as an alternative for children of color.