Black female comics; the invisible woman?
Hollywood by Choice
Gail Choice | 12/19/2013, midnight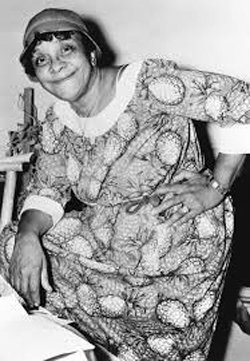 There is a very short list of notable Black comediennes who have reached the superstardom level, and only Academy award winner Whoopi Goldberg comes to mind immediately.
Of course the name Moms Mabley will crop up eventually but sadly, that will mainly happen in the Black community.
However, a recent documentary produced by Whoopi Goldberg is shedding new light on the trailblazing comedian.
Jackie Moms Mabley was born Loretta Mary Aiken in Brevard, N.C., on March 19, 1894. She was known for her warm yet raunchy stand-up routines and hit albums. Mabley had a starring role in the 1974 picture "Amazing Grace," which she was able to complete despite having a heart attack during filming. But that didn't push her into mainstream stardom. And a similar fate may await many a Black woman who decides to take the comedic route.
Coming up a fast second, but nowhere near Goldberg's status is Maya Rudolph, daughter of the late, legendary singer Minnie Ripperton. Rudolph, by the way, was once a cast member on the long-running comedy sketch show on NBC "Saturday Night Live."
"Saturday Night Live" is reportedly about to hire a Black female cast member, a first step in addressing claims of a lack of diversity on the popular show.
SNL creator and executive producer Lorne Michaels last week said that a Black female comedian will start with the cast in January. She would be the first African American woman on the show since Maya Rudolph left in 2007.
Michaels has come under renewed fire this year after the show's two Black cast members, Jay Pharaoh and Kenan Thompson, commented on the need for Black women on the show. Pharaoh told the Grio that SNL needed to "pay attention" to the absence.
Thompson told TV Guide that they need people to play Black female characters but that when the show is looking for Black women, "they just never find ones that are ready."

Rule number one young brother, check your sources before you come out with inflammatory statements such as that.

There are a number of Black female comedians who have played every dive, from here to Mississippi, and who have created their own 'one woman show' just to get noticed. You see them in commercials, bit parts in movies and TV shows—all with one goal in mind; to get a steady gig that could possibly propel them to stardom.
As you can imagine, Thompson faced backlash for the comments, which according to The Guardian seem to place responsibility on Black women comedians and not his employer. The show then faced more criticism after SNL announced in September that six new cast members were joining in the show's 39th season, and they were all White.
In SNL's 38-year history, there have been four Black female cast members. Rudolph from 2000 to 2007, Ellen Cleghorne from 1991-1995 and Yvonne Hudson and Danitra Vance, who each did one-year stints in the 1980s.
A series of casting calls were held over the past several weeks, culminating with auditions in Los Angeles earlier this month at The Groundlings Theater, and a special audition at the show's 30 Rockefeller Plaza stage last Monday night. Michaels said these auditions were not a direct response to the recent criticism, but that it is "100 percent good for the show to have an African American woman."
"All told, we've seen about 25 people," Michaels told the New York Times. "A lot of the people we saw are really good. Hopefully we'll come out of the process well." He said up to two people could be added to the cast, but he did not want to add too many women to the current cast, which includes five females.
Along with Pharaoh and Thompson, the 16-member cast includes one other person of color, Iran-born Nasim Pedrad. There are currently no Hispanic or Asian cast members on the show, male or female.
Check out Prachi Gupta's article on the Salon website at http://www.salon.com/2013/12/14/meet_the_11_black_female_comics_who_just_auditioned_for_snl/ and get a firsthand look at some of the women who audition for "Saturday Night Live."
For more information on "Whoopi Goldberg Presents Moms Mabley" on HBO go to http://www.hbo.com/documentaries/whoopi-goldberg-presents-moms-mabley.