City seeks feedback about billboard proposal
Community attempts to address areas of blight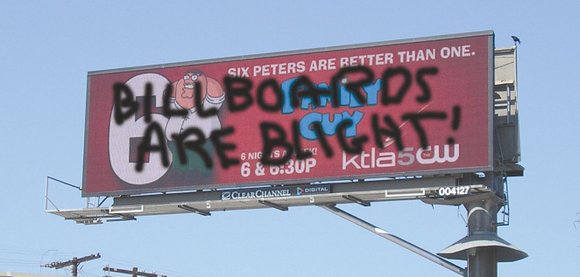 The city of Santa Clarita launched a new website, Billboards.Santa-Clarita.com, to provide the community with information on a proposal from Metro to remove all billboards in the Metro (railroad) right-of-way, within the Soledad Canyon Road and Railroad Avenue corridors.
The city has been working since 1987 with community partners to address areas of blight (or disrepair) throughout Santa Clarita, including the removal of billboards. Metro approached the city with a proposal to remove 118 billboards on 62 structures within the center of Santa Clarita to improve the look of the area. In exchange, three, double-sided, digital billboards would be placed along I-5 and SR 14.
The website is designed to be a resource and features an overview of the proposal made by Metro, a fact sheet, frequently asked questions, before and after photo mock ups, and maps of existing billboards within the city.
Most importantly, the website includes a section for residents to provide feedback. Before a decision is made about this proposal, the city wants to hear from community members and business owners about the removal of billboards in exchange for constructing three, new freeway-adjacent digital billboards.
"Santa Clarita remains committed to beautifying our city and removal of billboards is a priority to improve the overall aesthetics of our roadways," commented Mayor Bob Kellar. "Before we take action on the Metro proposal, we want to hear from residents and business owners. We created the comment section on the website to make it easy and convenient for residents to share their thoughts, and I hope everyone will take a few moments to review this proposal and provide feedback."
The Metro proposal calls for the new digital signs to be on city-owned, freeway-adjacent property, including SR 14 off Oaks Springs Canyon, SR 14 on Remsen, and I-5 on the east side of Magic Mountain Parkway by the current monument sign. The proposal also states that Metro will be responsible for negotiating removal of the billboards, as well as indemnifying the city against potential lawsuits.
In the coming weeks, the proposal will go through an environmental review process as part of the California Environmental Quality Act (CEQA) to determine environmental impacts of the new billboards. Additionally, the project will require public hearings at both the Planning Commission and the City Council in early 2014.
For more information about the billboard proposal in Santa Clarita, visit Billboards.Santa-Clarita.com.