The transformation of a third grader
Some say it's "OK" because it's sports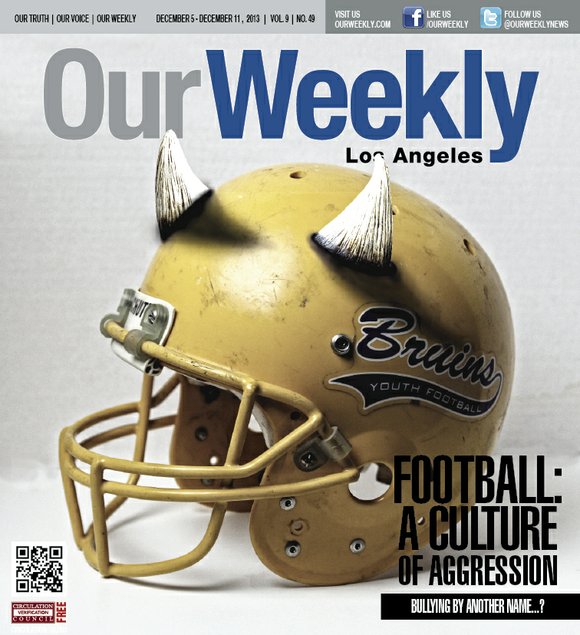 The father thought silently about what he had just seen happen, and at the same time the mother asked with uncertainty "honey why is he doing that; he's going to start a fight." Honey look!" "He's playing dirty "and "Oh my God look at him leave the field, he's running like Robocop. What happened to my sweet son?"
Later on, the 16 year old was pulled out of the game by his coach and criticized for personally focusing more on injuring an opponent than executing a play. At times during the game, two or more offensive players were required to block him. And during one particular play he aimed at one kid's stomach and injured him, then returned to the huddle as if nothing had happened. Meanwhile the opposing team member was stretched out on the field in pain.
Jimmie's parents both thought the blows he was throwing were overkill and had observed an exchange of words between the two prior to his son injuring the other player.
When questioned by his parents the following morning about his aggressive play and possibly unsportsmanlike behavior on the field, Jimmie responded that he played in a hostile environment and was constantly getting punked and picked on along the sideline by his older teammates who were considered veterans.
This had taken place for years while he played for the Baldwin Hills Bruins, according to his dad. His father went on to explain that his son's teammates were older kids and his son believed it was accepted behavior. "That is why he socks helmets today."
The now 6 foot 5 inch tall high school junior had to play with middle school students while he was in the third grade because of the size and weight restrictions set up by the league.
The 16 year old laughed and also explained that the kid he injured was "talking stuff" about his mother the entire game. He also expressed the fact that football was an aggressive sport, and he couldn't understand why Jonathan Martin quit the Miami Dolphins; he thought the pro player should have smacked the guy or something.
Jimmie's mother was unable to answer any questions about his playing environment at Baldwin Hills. She only remembers being concerned about his safety and did not want her sons playing at all. She accused his father of forcing their sons to play.
However, the dad felt like Baldwin was no different than any other league in the inner city. "Coaches want to win, and if kids think you are soft they will mentally intimidate you or sucker punch you, sometimes with the knowledge of the coaching staff. The only difference is there are no locker rooms for the abuse to occur in, so it takes place on the open field sometimes in front of you. It was definitely an experience."
The dad remembers, it was a common occurrence that kids bumped his son on the sideline during practice then told him to move or get out of the way or told him he sucks. He was more a verbal punching bag than physical. Jimmie's father believes that this was the typical behavior of young African American males that age, and asked "we accept bullying as a right-of-passage of growing up in the 'hood don't we?"