Cheryl Boone Isaacs recieves Horizon Award; Munson Steed honored by Urban League; Jesse Owens medal up for auction
African American news for the week of Dec. 2, 2013.
California
The African American Film Critics Association on Monday announced the winners of its 2014 Special Achievement Awards. The Weinstein Company's Bob and Harvey Weinstein are the recipients of the Cinema Vanguard Award, while Academy of Motion Picture Arts and Sciences President Cheryl Boone Isaacs will receive the Horizon Award. Directors Guild of America President Paris Barclay is the winner of the Legacy Award,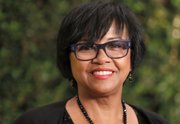 and Fox Searchlight senior vice president of production Zola Mashariki is the recipient of the Ashley Boone Award. Variety film critic Justin Chang is the winner of the inaugural Roger Ebert Award. The African American Film Critics Association is scheduled to present the awards at a ceremony on Jan. 31 at the Taglyn Complex in Hollywood.
District of Columbia
The White House Initiative's Year-round Internship Program provides current undergraduate and graduate students with an opportunity to learn about African American-focused education policy, communications, and outreach at the U.S. Department of Education. Responsibilities include, but are not limited to: Collecting and compiling research and data on African American education, institutions and communities; participating in strategic planning and staff meetings and other department policy briefings and meetings relevant to the work of the initiative; liaising between the initiative and local and national African American organizations and federal agencies; and much more. Throughout the course of their internships, students will have the opportunity to attend and potentially lead in the planning and management of meetings, briefings and other special events on Capital Hill, at the White House and in other federal agencies. For more details and/or to apply, visit:
www.findinternships.com/2013/04/white-house-initiative-year-round-internship-program.html
Florida
Florida A&M University's Student Health Service's Rattler Wellness program is collaborating with Nubian Wellness to address the obesity issue by encouraging students, faculty and staff to participate in Run With Me. This is a nationwide initiative to promote physical activity in the Black community. Run With Me participants must pledge to participate in a 5K, 10K, half-marathon or marathon of their choosing—either by walking, jogging or running—between now and Dec. 31. Participants are to find a race in their local city. Individuals are not required to run; walking or jogging is permissible. Those who finish their race are eligible to win prizes which include wireless activity trackers, wireless headphones, gift certificates to sporting goods stores and more. Kimi Walker, a health services educator, said she wants Run With Me to "give people attainable goals to train for that don't necessarily revolve around the scales." These goals could be dropping a dress size, being able to run a mile in under 15 minutes or working out at least three times a week. Run With Me differs from other initiatives because it is all focused on women and men of color."
More than 1,400 local students recently viewed the Commemorative Air Force (CAF) Red Tail Squadron's RISE ABOVE Traveling Exhibit sponsored by JM Family Enterprises and Stonegate Bank. Hosted by Dillard High School in Fort Lauderdale the exhibit provided a unique learning experience about the inspiring story of the Tuskegee Airmen because it was held in a 35-seat movie theater housed in a semi-rig. "The exhibit is truly a one-of-a-kind adventure similar to something you would experience at Disneyland," said Brad Lang, CAF Red Tail Squadron Leader. Students from Dillard High School and youth enrolled in afterschool programs at the Boys & Girls Club of Broward County and Urban League of Broward County, enjoyed a screening of a short original movie, "RISE ABOVE," which focuses on the obstacles faced by America's first Black military pilots and their support personnel, known today as the Tuskegee Airmen. Following the movie, students received inspirational dog tags with the six guiding principles of the CAF Red Tail Squadron's Rise Above educational program. The dog tags read: Aim High - Believe in Yourself - Use Your Brain - Never Quit - Be Ready to Go - Expect to Win. Students and community members were also able to meet and greet Tuskegee Airman Lt. Col. Leo Gray.