Let's not let Robin Thicke off the hook
Miley Cyrus bore the brunt of public outcry after a salacious VMA performance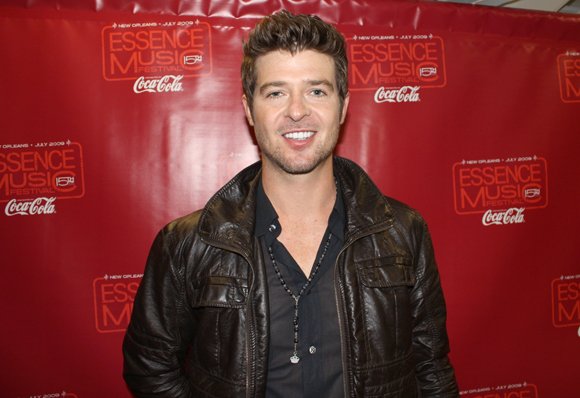 But I do believe there are other places in life where the lines are black and white. Just like the stripes on Mr. Thicke's fun costume the other night. And, truthfully, I think he's the one that crossed a line. A big thick one.
It's the line that says while we can have fun, men must know the difference between respect and disrespect when it comes to how we treat women.
I find it ironic that so many people talk about how Miley will look back on all this with embarrassment in the future. I don't know if that will ever happen. And I don't know that I care.
But I do care that Mr. Thicke (who I also think is an awesome artist) seems to have abdicated his responsibility (as a man — not a celebrity) to model respectable behavior towards women. He's 36. He's a dad. And I'm guessing he's a pretty dandy dad and husband. I mean, come on, his own father was Jason Seaver of "Growing Pains"! I'm not an MTV producer, but I'm pretty confident Mr. Thicke knew exactly how that performance was going to go down. Foam fingers, package grabbing, twerking, Miley backing herself into his hips like he was an open garage door, and the rest of the mess.
He's a man. He's a dad. Just like the rest of us. And we all owe it to our kids to act and show them where the blurred lines go away.
And a special note to my 17-year-old son: I know we both rolled our eyes the other night when we watched Miley. It was pretty awkward to see her act that way. We all do dumb things and I hope you know I'll always give you plenty of room to make mistakes and find your way to adulthood. As you can guess, I'd appreciate it if you kept from anything involving twerking on national television. And please limit your use of foam fingers to sporting events.
But if I ever see or hear of you crossing that very real line about how to treat a woman — or any human being for that matter — don't expect such open-mindedness from me. There's no such thing as a blurred line when it comes to respect. As your dad, I take that one very seriously.
Jim Higley | CNN
Jim Higley is an award-winning author, speaker, radio show host, spokesperson and cancer warrior. A fatherhood contributor for Men's Health magazine. Jim lives in Chicago with his three children.