Let's not let Robin Thicke off the hook
Miley Cyrus bore the brunt of public outcry after a salacious VMA performance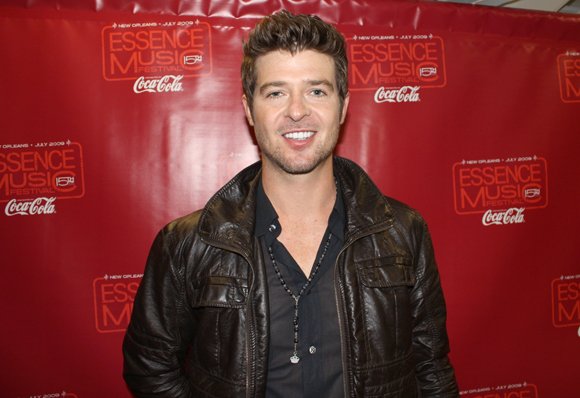 I promised myself that I wouldn't do it. I wasn't going to jump in to the whole Miley Cyrus circus. No siree. The pond was full. The seats were all taken. Social media was in overdrive. And everyone's been far too distracted. I, for one, was not about to enter the twerkosphere.
But dang, it's like a train wreck, isn't it?
Candidly, I haven't been all that bad. Honest. But I have kept up to speed on many of the conversations taking place. Shame on Miley. Shame on her parents. Shame on MTV. Shame on censors. Shame on people who are shaming people. Shame, shame, shame.
But the one person who seems to have flown under the shame radar is Miley's partner in debauchery, Robin Thicke. As a dad and husband in this story, it seems to me he should be held as accountable — if not more — for this ridiculous national spectacle and its aftermath as a 20-year-old girl.
Let's rewind: I actually saw the performance. Our television — which is usually on ESPN — was uncharacteristically tuned to MTV the other night so my 17-year-old son and I could watch what we heard was going to be a pretty awesome Justin Timberlake performance. Well, we enjoyed the JT treat. And, yup, we also got more of Miley than we bargained for.
Sure, from my middle-aged vantage point, it was gross, inappropriate, and downright offensive. But let's be honest, so much of what our kids are exposed to is just that. Everywhere. And if you think otherwise, take an inventory of advertising, television shows, music lyrics, teen magazines, social media and virtually everything associated with the Internet.
I'm not condoning or supporting it. But I do accept it as a reality. I've also come to believe there are gray areas — or to use Miley's performing partner, Robin Thicke's words, blurred lines — in life. Especially when we're tempted to pass judgment on others.
There's especially a lot of those fuzzy areas with kids as they navigate their way to adulthood. Maybe that's why I'm more forgiving and understanding of Miley than others. She's 20. In my book, that still makes her a kid. I have two of my own around her age. To me, she's just one of the gang.
I've spent a lot of time around teens and young adults in my life. And many of them make crazy mistakes along the way. They say ignorant things. They do things that they'll regret. But, as best as I can tell, they usually turn out fine.
My kids were glued to Miley's Hannah Montana years and I think she's one incredibly talented person. Even some of her new stuff is fine. Is she going overboard with this apparent mission to prove she's an adult? Seems so. But who I am to judge?
As a dad, I can only hope she finds her way through her own blurred lines and gets to the other side healthy. And a little wiser.