Holiday for the Workers
Region has strong ties to labor movement
Labor Day has become a transitional holiday. To some it is considered the last vestige of summer, while others see it as the beckoning of fall; the start of football season, the baseball stretch drive, or even a time when we enjoy one less hour of sunlight.
However, it is far more than a day off from work or school. Labor Day traces its roots back to the late 19th century when early union leaders fought sometimes bloody battles for fair pay, safe working conditions, improved job security and—possibly its most famous role—the right for workers to organize. Back then, there were no fair wage laws; no overtime; no enforcement of safe working conditions; job discrimination could be done with impunity; and there was no time off for holidays; no child labor laws and no advance notice of dismissal. Union organizers/sympathizers could be fired, arrested and, in the case of the 1894 Pullman Strike, beaten and even murdered.
The aeronautics industry has made the Antelope Valley a signature region for union membership, and today retired union members often still support the social and economic achievements attained by union membership. And while the holiday can sometimes pale in comparison to the somber and flashy displays of Memorial Day and July Fourth, Labor Day may have increased meaning these days because of the slow but steady climb out of a five-year economic downturn.
Often associated with socialism and confused with communism, Labor Day is a seminal opportunity to reflect on American workers who toil 40-hour-plus weeks to supply their families with regular meals, a roof over their heads, clothing and fineries, the privilege of an education and an opportunity for social and economic advancement. Labor Day has little to do with so-called spring "May Day" celebrations which coincide with International Worker's Day, nor does the holiday draw a sharp division between management and employees. Americans resolutely uphold this tradition by mobilizing and bringing a message of a continued struggle to maintain the nation's reputation as having the "world's highest standard of living."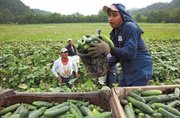 With corporations finding new ways of producing goods and providing services with less paid personnel, workers' rights organizations such as the SEIU (Service Employees International Union), the AFL-CIO, the United Auto Workers (UAW) and the Teamsters have been severely tested during the past decade, because of the new global economy, as well as "downsizing" and "oursourcing" to less developed nations that can supply the needed workforce and produce the same goods at a fraction of the American payroll.
"As workers, we are constantly under siege," said SEIU 721 President Bob Schoonover. His union will host its annual Labor Day rally in Wilmington on Monday. "Labor Day is a time to come out and be with our union family to celebrate our accomplishments together."
There has been an increase in companies either moving to or opening up in the Antelope Valley. This week a new employer arrived in Palmdale and is seeking to fill 150-plus positions for master scheduler, production supervisors, manufacturing engineers and mechanical and electrical quality control inspectors and technicians. Palmdale's South Valley WorkSource Center has been busy during the last few months bringing job seekers and employers together for no-cost placement and recruitment services.