Warnings of a Syrian quagmire as U.S. contemplates military strike
Tom Cohen | 8/29/2013, midnight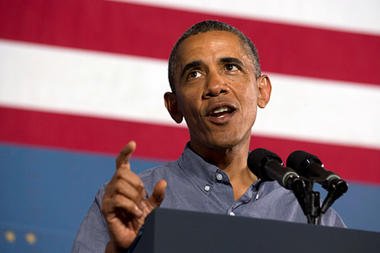 White House: No decision yet
White House spokesman Jay Carney insisted Tuesday that Obama continued to weigh options, and he made clear that any U.S. response to the August 21 use of chemical weapons in suburban Damascus was not intended to bring "regime change."
Meanwhile, efforts by the Obama administration to mount international support reaped some benefits. Major NATO partners Britain, France and Germany have called for a tough response in Syria, and a NATO statement Wednesday signaled support for action.
"Those responsible must be held accountable," the statement said. "We consider the use of chemical weapons as a threat to international peace and security."
The NATO language echoed Carney's remarks Tuesday that sought to justify a military response to what U.S. officials characterize as the worst chemical weapons attack since former Iraqi strongman Saddam Hussein launched a poison gas attack that killed thousands of Kurds in 1988.
"Allowing the use of chemical weapons on a significant scale to take place without a response would present a significant challenge to or threat to the United States' national security," Carney said.
On the same day Obama talked with Canadian Prime Minister Stephen Harper and British Prime Minister David Cameron, Secretary of Defense Chuck Hagel and Secretary of State John Kerry consulted allies and indicated potentially imminent action by a coalition likely to include key NATO partners and regional powers.
Cameron is proposing a U.N. Security Council resolution "condemning the chemical weapons attack by Assad and authorizing necessary measures to protect civilians," but certain opposition by Syrian ally Russia and possibly China doomed its chances.
Instead, a limited coalition of NATO partners and some Arab League members appeared more likely to provide political backing for Obama to order U.S. missile strikes. An Arab League spokesman condemned the al-Assad regime on Tuesday for the chemical attack.
In another move, the United States postponed its involvement in talks scheduled for this week in Geneva on seeking a political solution to the Syrian civil war. Russia expressed disappointment at the U.S. decision and warned against any Western military strike on Syria, as did Iran.
The United States has already moved warships armed with cruise missiles into the region. Hagel told the BBC Tuesday that forces were ready to carry out a strike if ordered. A senior Defense Department official told CNN that any strike could be completed "within several days."
"We are ready to go, like that," Hagel told the BBC, adding that "the options are there, the United States Department of Defense is ready to carry out those options."
For almost two years, Obama has avoided direct military involvement in Syria's civil war, only escalating aid to rebel fighters in June after suspected smaller-scale chemical weapons attacks by Syrian government forces.
However, last week's attack obliterated the "red line" Obama set just over a year ago against the use of Syria's chemical weapons stocks.
Vice President Joe Biden made clear the administration's view of who was to blame for last week's event, telling the American Legion on Tuesday that "there is no doubt who is responsible for the heinous use of chemical weapons -- the Syrian regime."