Muncie church that stood against KKK needs help standing
Drive to raise $60,000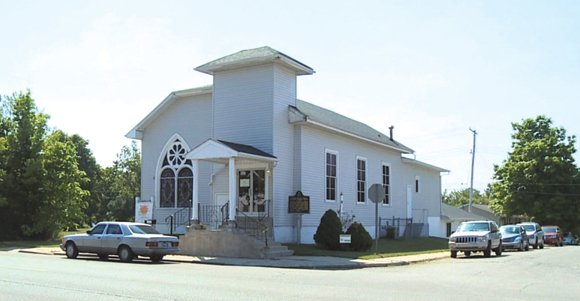 "The Klan was a strong organization back then when I was a child.
"There were a lot of rumors that would fly around that the Klan was coming and all of this and people would get apprehensive," said Goodall, adding that the KKK tried to, "intimidate people connected with this church and this neighborhood."
The people of Shaffer Chapel would not be intimidated.
"The African Americans had armed themselves in houses and behind corners and armed themselves to be able to tackle anything that came their way," said City Councilman Julius J. Anderson. "They were reinforcing themselves, I would say, to say, 'Hey, look, this is not going to happen in Muncie.'"
The nightmare that was visited on their neighbors in Marion did not spill over into Muncie.
Rev. Johnson finished his work, the bodies were embalmed and prepared for funeral and returned to their families in Marion.
A green historical marker on the church grounds commemorates the courage of the pastor and his congregation and the White political leadership of Muncie that night.
Now, the church is in dire need of renovation and rejuvenation.
About two dozen congregants arrive for weekly services.
Most are elderly and Black, but sprinkled in the pews are the faces of White students from Ball State University who have volunteered along with a local architect to help in the renovation.
"Our goal is to raise $60,000," said Dollison. "That is what we figure on being enough money to do the landscaping, repair those entry way steps and make a handicapped ramp along the side."
Renovations will be made to windows and restrooms, too.
"We see God's hand in a lot things that we do, and He's still in charge and we realize that," said Dollison.
"It took a community coming together on one accord to take a particular stand on that one evening," recalled Councilman Anderson. "Yes, it was a dark day on one side. But it was a bright day when the Klan didn't show."
The not-for-profit Whitely Community Council is leading the fundraising drive with an account established at Old National Bank. Tax-deductible donations can be made at any location for the Shaffer Chapel renovations.
Russ McQuaid | CNN