Los Angeles reflects on March on Washington
Progess made, more work to do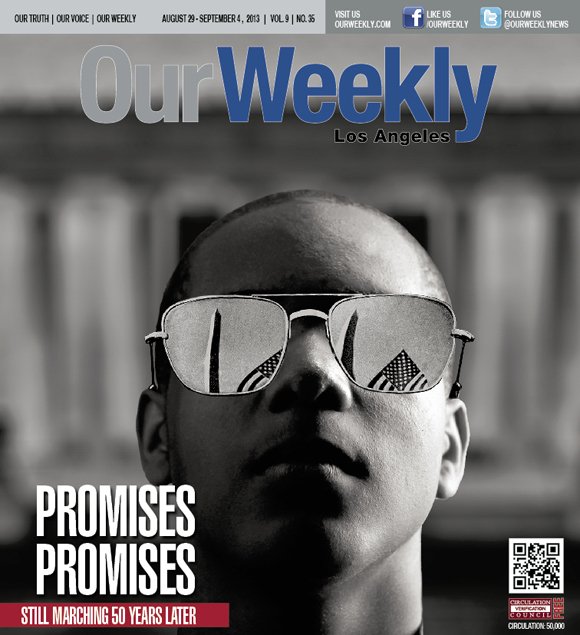 "In some ways, it's bittersweet to reach this milestone. On one hand you think about the contributions of the Black movement and Black people to completely transform the nation into a nation that could elect the first Black president; that could have the first African American female astronaut; that could create a society where we support one another through programs that feed the hungry, and house the homeless. All that happened because Black people stood up and good people stood up with the African American community to demand change in society," said Smallwood Cuevas. "At the same time," added the activist, "African Americans have been paying the price for their demands ever since."
Smallwood Cuevas pointed out some of the challenges that Blacks continue to face, an unemployment rate that in 1963 was double the White rate and that today is nearly triple; young Black men unable to walk the street without fearing having their lives taken with no legal protection or redress; a younger generation completely left out of opportunity as well as fathers and sons denied a quality education, which in turn impacts their ability to obtain a job.
Smallwood Cuevas looked at Saturday's celebration as a call to action that asked the questions of how to create full employment and quality jobs.
"This is a call to action that says as a community, we have to come together and recognize what has happened and what is happening. We can't wait for politicians and leaders to act. But it's for ordinary people to do extraordinary things.
"When we talk across the kitchen table. We have to start talking in the churches and the clubs to branch out to the attorneys, the academics and link with working folks. Then they have to reach out and bring in elected officials."
The Black worker activist also pointed out that African Americans have always been the "canary in the mine" and have been suffering for years. Now that angst has spread to all workers.
"They are in deep pain. You can't talk to someone about a job, if they don't have an address or a place to lay their head down. You can't talk to someone about work if their stomach is growling."
The Black Worker Center will address the African American worker crisis in depth during a congress planned for Sept. 6-7. Smallwood Cuevas said the event will also look at the jobs, the quality of those jobs, the forces behind the high levels of unemployment and what has become the elephant in the room—racial injustice and employment. She said the organization plans to emerge from the meeting with a blueprint for moving forward.
Although many of the activities commemorating the 50th anniversary have concluded, in Los Angeles a number of events still remain. These include: an "Act Now for Human Rights" rally and march Saturday from 11 a.m.-3 p.m. in Leimert Park, at the corner of Vernon Avenue and Crenshaw Boulevard. This event is hosted by the National Action Network Los Angeles (323) 521-3477.