Syria: Western intervention looms after reported chemical weapons attacks
Syria says rebels obtained materials for chemical weapons from other countries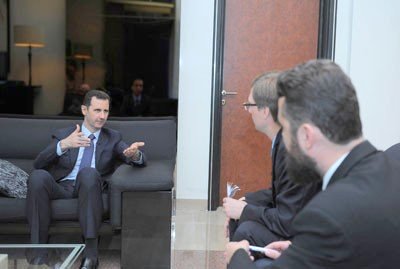 U.N. Secretary-General Ban Ki-moon seemed to ask for a reprieve Wednesday for the sake of the inspectors. "The team needs time to do its job," he said from The Hague, where he visited the International Criminal Court.
He said the inspectors had already collected valuable evidence.
The United States is also considering a Jordanian request for the use of drones along its border with Syria for intelligence-gathering purposes, a senior U.S. official speaking on condition of anonymity told CNN.
Syria: 'We are in a state of war'
Syrian Ambassador to the United Nations Bashar Jaafari insisted Wednesday, "We are not warmongers. We are a peaceful nation seeking stability in the area because instability would serve the Israeli interests."
"We are in a state of war," and preparing for the possibility of such a scenario, he said at U.N. headquarters in New York. "The Syrian government is looking for stability."
Jaafari accused rebels of obtaining material to produce chemical weapons "from outside powers — mainly speaking, Turkey, Saudi Arabia and Qatar."
Jaafari agreed with U.S. Secretary of State John Kerry on one point: that the use of chemical weapons is "a moral obscenity," he said.
U.S. officials accuse the Syrian government of carrying out the attack.
Vice President Joe Biden made clear the administration's view, saying Tuesday that "there is no doubt who is responsible for the heinous use of chemical weapons — the Syrian regime."
A U.S. independent intelligence report about the chemical weapons attack will come out later this week, White House press secretary Jay Carney said.
Israeli military intelligence provided intercepts among Syrian military commanders that discussed the movement of chemical weapons to the area of the attack before it happened, a diplomatic source told CNN Wednesday.
U.S. ruled out ground troops
For almost two years, President Barack Obama has avoided direct military involvement in Syria's bloody civil war as the death toll skyrocketed to more than 100,000, according to U.N. estimates.
But Obama had warned that a chemical attack would cross a "red line."
The White House has ruled out sending ground troops to Syria or implementing a no-fly zone to blunt al-Assad's aerial superiority over rebels.
Obama continues to review options, Carney said Tuesday, adding that "nothing has been decided."
Those options include peaceful diplomacy, which critics have called a "do nothing" approach.
Sen. Jack Reed, D-Rhode Island, a former U.S. Army Ranger and current member of the Senate Armed Services Committee, believes that the most realistic option would be cruise missiles launched from U.S. Navy ships at sea.
"We can have precision weapons that could be fired and keep our aircraft out of Syrian airspace and away from their anti-aircraft systems," he said.
"The most effective targets would have command-and-control, because you could send a signal to the Syrian regime that if they don't agree to international standards, if they don't make it clear and make it obvious that they're not going to use these weapons, and that we can inflict additional damage on their command-and-control," he added.