Syria: Western intervention looms after reported chemical weapons attacks
Syria says rebels obtained materials for chemical weapons from other countries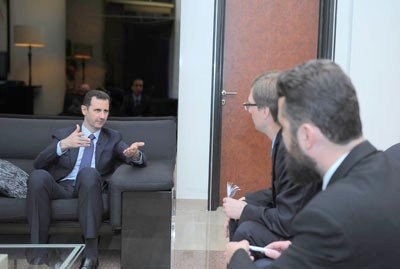 DAMASCUS, Syria — Global powers are working furiously to prepare for the possibility of a strike on Syria — looking at military options, holding emergency meetings and stressing the need for swift international action.
Meanwhile, those who claimed to have survived the alleged chemical weapons attack that triggered the international machinations described the horror they say ensued.
"After the chemicals, they woke us up and told us to put masks on," a 6-year-old boy in Zamalka said.
"I told my dad I can't breathe. My father then fainted and I fainted right after that, but we were found and taken to the emergency room."
CNN obtained video of the boy and others who made the claims to a journalist in the area.
One man claimed he evacuated two dead bodies during the attack. "Then there was another explosion. I couldn't breathe, I had cramps and I couldn't see. The doctors helped me."
The horror of the attack on civilians has jolted the world into potential action on a crisis that has lasted more than two years and killed more than 100,000 people, according to the United Nations.
Last week was not the first time chemical weapons are believed to have been used in the conflict. But it was by far the worst.
"Syria is now undoubtedly the most serious crisis facing the international community," Lakhdar Brahimi, U.N. and Arab League special envoy to Syria, said Wednesday.
"It does seem that some kind of substance was used that killed a lot of people," he said. The death toll could be in the hundreds, or possibly more than a thousand, he said.
"This is of course unacceptable. This is outrageous," Brahimi said in Geneva. "This confirms how dangerous the situation in Syria is and how important for the Syrians and the international community to really develop the political will to address this issue seriously and look for solutions for it."
After a meeting Wednesday, NATO issued a warning.
"The Syrian regime maintains custody of stockpiles of chemical weapons. Information available from a wide variety of sources points to the Syrian regime as responsible for the use of chemical weapons in these attacks. This is a clear breach of long-standing international norms and practice.
"Any use of such weapons is unacceptable and cannot go unanswered. Those responsible must be held accountable. We consider the use of chemical weapons as a threat to international peace and security," NATO said in a statement. Some Syrians have told CNN they doubt their government used chemical weapons.
U.S. 'ready'
American warships armed with cruise missiles plowed the waters of the eastern Mediterranean Sea.
U.S. forces are ready, if an order to strike comes down, Defense Secretary Chuck Hagel told the BBC on Tuesday.
A senior Defense Department official told CNN that any strike could be completed "within several days."
And U.S. officials are all but telling United Nations inspectors in Syria to get out of the way.
"We clearly value the U.N.'s work — we've said that from the beginning — when it comes to investigating chemical weapons in Syria," State Department spokeswoman Marie Harf said Tuesday. "But we've reached a point now where we believe too much time has passed for the investigation to be credible and that it's clear the security situation isn't safe for the team in Syria."