Photos capture faces of the 1963 March on Washington
"This is the Day: The March on Washington" is a photo essay of the March on Washington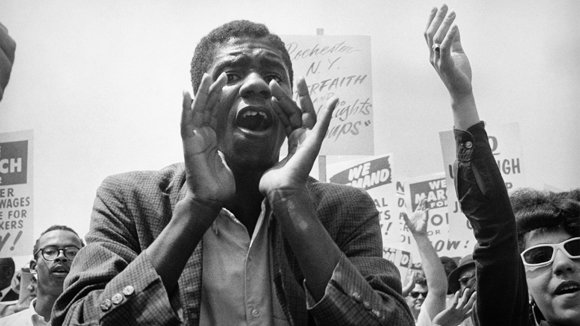 The goal was always that Leonard's own vision might be brought out from the day, but also that other images might participate in a broadened cultural awareness of the sweeping diversity and impact of the march.
CNN: What would you say is the most powerful image from this collection? Why?
Farber: One in particular that stands out is of young women in zip-up NAACP jackets standing at the base of the Washington Monument with American flags waving behind them.
I think what you get a sense of is it took people out of their everyday circumstances and brought them together, here, against this monumental landscape of the National Mall. This was the people's gathering place. And using their presence as a way to create a collective — that stands out — and states belonging. The photograph to me is a feeling of a belonging.
CNN: Martin Luther King Jr.'s "I Have a Dream" speech is perhaps the most enduring symbol of the march. What do the photos reveal that history often forgets?
Farber: One of the great historical facts about the march was the difficulty in pulling off an event that was pioneered by a number of organizations and individuals with different definitions and investments of social change at the march.
(I see) the rich diversity of the "we": Although there are different groups and investments, you get a sense from photographs like these that it's not an "us" and a "them" but a "we".
It's not to erase the differences, or simply streamline them, but in co-existing, you get a richer vision of what social change can be.
CNN: How was this photography critical in the message of the march?
Farber: Leonard captured some important private reflective movements.
It's a lesson for us in thinking about great moments in history: what it takes to envision progress or possibility is both about moving forward and also about considering and questioning and stopping — and having the patience for social change.
Part of what photography gives us is ... a sense of the high points of these great moments in history, as well as the unexpected glances that really capture the subjects (as) they have their own thoughts and own ideas, (and) relate to the broader group's perception throughout the day.
Alicia W. Stewart | CNN