Remembering 1963
The turning point in the fight for civil rights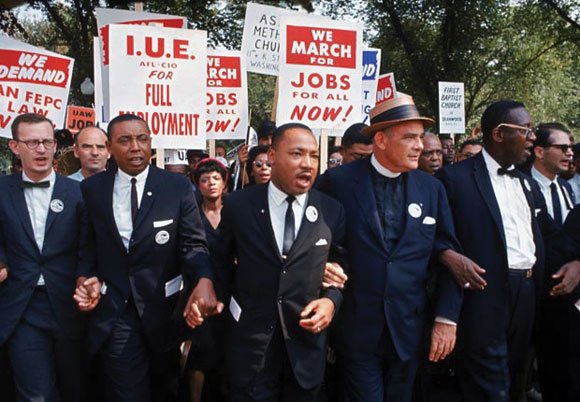 Nov. 3-Dec. 27—Birmingham Public Library downtown. "Unseen, Unforgotten: The Civil Rights Photographs of The Birmingham News."
MICHIGAN
The B & W Charters tour department has bus trips planned to Alabama to retrace the steps of the Civil Rights Movement during 1963. Details below: Tuesday, Sept. 10-Monday, Sept. 16. For info: (269) 345-4222.
MISSISSIPPI
Oct. 15—Presidential Civil Rights Lecture Series, 6 p.m., in the Woodworth Chapel at Tougaloo College. Inaugural lecture of the series.
Oct. 19—Woodworth Chapel Memorial Plaza Ceremony and Unveiling of the Tougaloo College Civil Rights Wall of Honor, 1 p.m., Bennie G. Thompson Academic and Civil Rights Research Center. These events will honor individuals who made contributions to the Mississippi Civil Rights Movement.
SOUTH CAROLINA
The theme for the celebration of civil rights in this city is "Columbia, S.C. 63: Our Story Matters," and among the activities taking place are:
Sept. 15—Civil Rights Sundays: Integration of South Carolina Colleges at 3 p.m. in the Nickelodeon Theatre, 1607 Main St., Columbia, will feature archival footage from the University of South Carolina Libraries' Moving Image Research Collections showing what the integration of South Carolina colleges looked like, with a particular eye towards the integration of the University of South Carolina and Clemson.
Aug. 24—11 a.m.-5 p.m. Jubilee: Festival of Heritage. Presented by the Historic Columbia Foundation Mann-Simons Site, 1403 Richland St. Free. The 35th annual Jubilee: Festival of Heritage, celebrating culture and the contributions of Celia Mann and her descendants, a family whose roots began with the work of a freed enslaved person and continued with the entrepreneurial spirit of her descendants. Festival activities include tours of the Mann-Simons Site, bus tours of African American heritage sites. Jubilee celebrates the life of Celia Mann and her descendants. Although only one house stands today, the Mann-Simons site historically was a collection of commercial and domestic spaces owned and operated by the same African American family from at least 1843 until 1970.
Aug. 25—3 p.m. "I Was There: Remembering the March on Washington," presented by Columbia S.C. 63, the Renaissance Foundation, Columbia S.C. 63 and Historic Columbia Foundation in conjunction with the 2013 Jubilee: Festival of Heritage and Bethel A.M.E. Church, 819 Woodrow St. Free. is moderated by Bobby Donaldson, Ph.D., professor of history at the University of South Carolina. This panel discussion will feature Columbians who attended the March on Washington on August 28, 1963, and they will share their recollections and impressions of that historic day.
Ongoing—"If You Miss Me at the Back of the Bus," on display through Sept. 20, is an invitational, juried art exhibit featuring more than 60 works by artists including Susan Lenz, Laura Spong, Jean Groser and Tish Lowe. Inspired by Pete Seeger's song "If You Miss Me at the Back of the Bus," the works examine and address issues of social, artistic and personal freedom and pay tribute to history's leaders and champions of self-determination, equal opportunity and societal change. Free. Presented by McKissick Museum at the University of South Carolina, McKissick Museum, 816 Bull St., Columbia.