Egypt on edge amid questions about U.S. aid
At least 36 Muslim Brotherhood prisoners are killed in a jailbreak attempt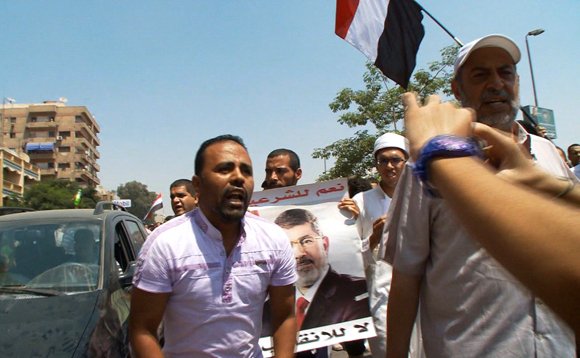 CAIRO, Egypt — Egypt remained a powder keg Monday, with 25 soldiers killed in a Sinai ambush and onetime ruler Hosni Mubarak winning acquittal on a corruption charge.
Suspected militants armed with rocket-propelled grenades struck two buses carrying security forces and killed the soldiers in the city of Rafah, on the border between Egypt and Gaza, state-run Nile TV reported.
The Sinai Peninsula is a lawless area that was the site of frequent attacks even before Egypt's latest round of turmoil. In May, for example, seven Egyptian solders were kidnapped and held for six days there, a spokesman for Egypt's armed forces said.
But the attack adds to the persistent tension across the country since the military ousted democratically elected President Mohamed Morsy in a coup.
Over the past week, about 900 people — security personnel as well as citizens — have been killed.
Deaths occurred when the military used force to clear two pro-Morsy sit-in sites in Cairo on Wednesday and violence raged after pro-Morsy supporters staged demonstrations Friday.
On Sunday, at least 36 jailed members of the Muslim Brotherhood, an Islamist movement, were killed in what the Interior Ministry called an attempted jailbreak.
As for the Sinai ambush, the Brotherhood condemned the attack on Egyptian soldiers.
"Our peaceful protests (are) stronger than any weapon, and we don't accept any violence," said Murad Mohamad Ali, media adviser to the Brotherhood's Freedom and Justice Party.
Morsy supporters, many of whom are members of the Muslim Brotherhood, and those aligned with the military-backed interim government blame each other for stoking the violence.
Morsy has been in detention since his overthrow. Egyptian prosecutors have extended the detention for 15 days, pending investigations.
Prosecutors have charged him with participating in the detention, torture, murder and attempted murder of Egyptian citizens; broadcasting false news to influence judicial authorities in their inquiries; and inciting thugs to use force and terrorize citizens.
Questions about aid
The crackdown also spurred a call from a leading U.S. senator, John McCain, to cut off its $1.3 billion in aid to Egypt. He said the United States has failed to follow its own rule requiring suspending aid to states overtaken by a military coup — though the United States has not officially described the recent regime change in Egypt as a coup.
"We have no credibility. We do have influence, but when you don't use that influence, then you do not have that influence," McCain said Sunday on CNN's "State of the Union."
U.S. Defense Secretary Chuck Hagel said President Obama noted that "every aspect" of the U.S.-Egypt relationship is under review.
He said the U.S. message to Egyptian officials has been consistent: The interim government should "get back to an inclusive approach to reconciliation in Egypt.
Will the regime get the message? The U.S. ability to influence events in Egypt is "limited," Hagel said, but it's not "without influence."
Speaking at a Pentagon briefing with his counterpart from China, Hagel said the United States has a longstanding relationship with Egypt.