President Obama slams Egyptian military's crackdown
Cairo government hits back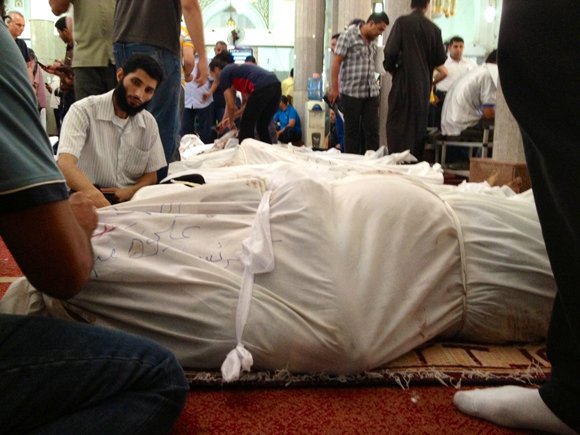 When Egypt's first democratically elected president was tossed out earlier this year, the White House stopped short of calling it a coup.
Doing so would have forced an end to the $1.3 billion that the United States sends in military aid every year — and changed the course of its relationship with its strongest Arab ally in the region.
But that was before Wednesday, when the military-led interim government stormed two camps full of former President Mohamed Morsy's supporters. More than 525 people were killed and 3,717 wounded in the bloodiest day in Egypt's recent history, officials there said.
On Thursday, President Barack Obama said the state of emergency should be lifted and a process of reconciliation must begin. He condemned the violence against civilians and announced the United States is canceling next month's joint U.S.-Egyptian military exercises.
The U.S. wants to sustain its relationship with Egypt, but "our traditional cooperation cannot continue as usual when civilians are being killed in the streets," Obama said from his vacation home in Martha's Vineyard, Massachusetts.
Obama said that he does not believe that force is the way to resolve political differences, but that "there remained a chance for reconciliation and an opportunity to pursue a democratic path."
"Instead, we've seen a more dangerous path taken," the president said.
The office of Egypt's Interim President Adly Mansour responded sternly to Obama's remarks, claiming they don't reflect "all the facts on the ground" — including what it characterized as "terrorist attacks that targeted churches, courts, police stations and public and private property."
"The presidency fears that statements that do not rely on facts might strengthen the armed violent groups and encourage them to obstruct stability and democratic transportation," the Egyptian presidency said in a statement. "As a result, this would hinder the road map for the future, which we insist on achieving on time."
So will the carnage in Egypt cause deeper changes in U.S. policy toward the most populous Arab country? And might the hardening U.S. stance affect Egypt's own approach?
The short answer: We'll have to wait and see.
'A hornets' nest'
To understand why, one needs to appreciate the importance of Egypt in U.S. foreign policy.
The United States helps Egypt because it's one of only two Arab countries — along with Jordan — that made peace with Israel.
In return, Egypt gets more than $1 billion each year of U.S. taxpayer money for military and civilian programs. No other country except Israel gets more.
That aid buys Washington an ally to depend on in a turbulent region.
The U.S. doesn't want to upset that balance. And pulling aid might do so.
"It's a hornets' nest. And that's why the administration is trying not to stir it too much," said CNN's Fareed Zakaria.
Give up some to get some
But it's not just the peace process and regional stability that the United States is interested in.
Egypt controls the Suez Canal, a crucial sea route used by more than 4% of the world's oil traffic and 8% of all seaborne trade. So far, the canal is running smoothly. But a disruption there could end up hitting Americans in the pocketbook, not to mention affect the safe passage of U.S. military ships and equipment.