Kaitlyn Hunt pressed to take plea deal; Anthony Stokes makes transplant list; Two Louisiana hostages die in bank robbery
8/16/2013, midnight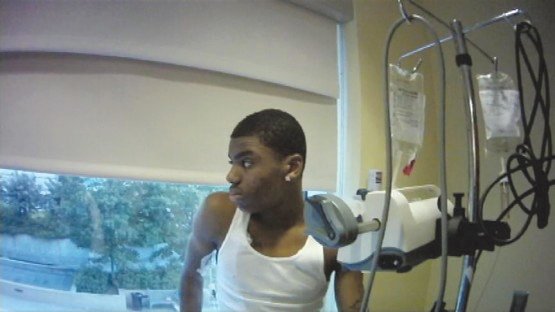 Alabama
The pilot and co-pilot of a UPS cargo plane did not issue a distress call prior to crashing while on approach Wednesday to Birmingham's airport, a National Transportation Safety Board official said. While UPS said the status of its crew remained unconfirmed, Birmingham Airport Authority Chairwoman Gaynell Hendricks and the city's mayor confirmed the pilot and co-pilot died in the crash. "It's a grim scene," Hendricks told CNN affiliate WBRC. The plane, an Airbus A300-600F, broke into pieces, spreading the majority of the debris over an area of about 300 yards, said Robert Sumwalt of the NTSB. The plane, which took off from Louisville, Ky., went down around 4:45 a.m. on a street that runs parallel to the Birmingham-Shuttlesworth International Airport, about a half-mile north of the runway.
Alaska
Federal agents say they've now linked 11 killings to admitted serial killer Israel Keyes and are looking into possible ties to killings in other countries. Keyes killed himself in December, about nine months after his arrest in the slaying of an Anchorage coffee barista. Police said he admitted to at least seven other slayings, from Vermont to Washington state, before his death. In a statement issued Monday afternoon, the FBI office in Anchorage said agents have now added three more to that grim tally. They also asked the public to share any information they had regarding Keyes' travels in Canada, Mexico and Belize between 2001 and 2008. "Keyes traveled internationally and it is unknown if he committed any homicides while outside of the United States," the FBI statement said.
Connecticut
The search of a pond in Bristol, in connection with the murder investigation involving Aaron Hernandez failed to turn up any new evidence, authorities said. "No evidence was recovered and, at the present time, no more dives are planned," Lt. Kevin Morrell told CNN's Susan Candiotti. Investigators have refused to say what they were searching for, but a law enforcement source previously told CNN they were searching for the .45 caliber handgun believed to have been used to kill Odin Lloyd. Authorities have conducted an extensive search at Pine Lake without success. They turned their attention to a small retention pond directly across the street from the lake on Tuesday. Hernandez, the former New England Patriot, is charged with Lloyd's murder in Massachusetts last June and has pleaded not guilty.
Florida
Prosecutors are pressing teenager Kaitlyn Hunt to accept a plea deal—one that would keep her out of jail, even if she'd have to admit wrongdoing—tied to charges she's facing for having sex with a then-14-year-old girl, a state attorney said Wednesday. Hunt, who turned 19 on Wednesday, is charged with two felony counts of lewd and lascivious battery after the parents of the 14-year-old went to authorities. Hunt's family says their relationship was consensual, though in Florida a person under the age of 16 is not legally able to give consent to sex. Bruce Colton, state attorney for the 19th judicial circuit, told CNN that his office offered Hunt the latest plea deal in July. Under its terms, she would plead to two misdemeanor battery counts and one felony count for interference of child custody—a charge that could be expunged later from her record. In exchange, Hunt would be subject to a curfew, community service and probation, but she would not face jail time, have to wear an ankle bracelet, nor have to register as a sex offender.