It's not a real knife, but it can cut away tumors
An outpatient procedure, it won't work for all cancers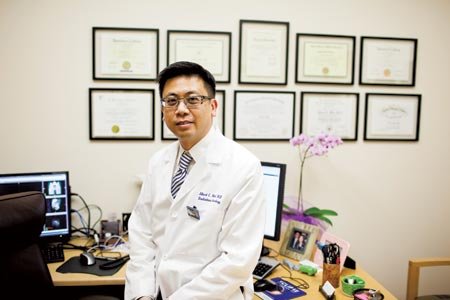 In general, Mak said, the tumor cannot be larger than about 5 centimeters.
He called the radiosurgery comparatively less expensive than conventional radiation and less expensive than open surgery, because it is totally outpatient.
While comparatively unknown, the CyberKnife treatment, is not new. Mak credits a Stanford neurosurgeon with its invention about 15 to 20 years ago. It was first used in brain treatment, but has since been adapted to the whole body. The technology, imaging and targeting has improved, he said.
Prior to establishing the CyberKnife Center, Mak used traditional surgical methods to treat cancer patients. Now, he said, he only uses traditional surgery for those patients who are not good candidates for the CyberKnife surgery because their tumors are too large or not well-defined.
"We started Cyberknife about three and half years ago," he said. "It's a better machine, delivers good results, and allows for patient comfort."
The radiosurgery process could be a real boon to men with prostate cancer, which is much more prevalent among African Americans than males in other ethnic groups.
The Pasadena Cyberknife Center at 630 S. Raymond Ave., Suite 104, in Pasadena, has four radiation oncologists on staff. The phone number is (626) 768-1021 or go online at www.pasadenacyberknife.com.