Boy infected with rare brain-eating amoeba in Florida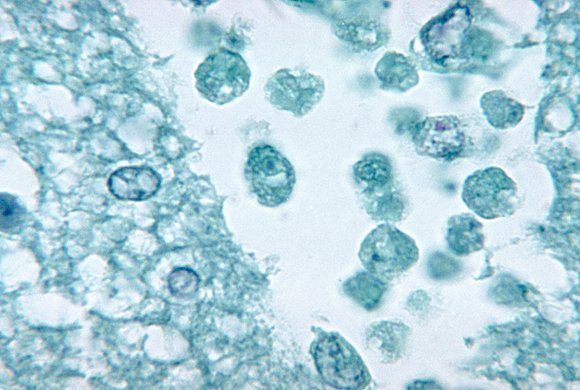 Another child has been infected with a rare, brain-eating parasite, less than a month after Kali Hardig ended up in an Arkansas hospital, fighting for her life.
The Centers for Disease Control and Prevention has confirmed another case of this amoeba, called Naegleria fowleri, in Florida, a spokesperson told CNN Tuesday. The patient is 12-year-old Zachary Reyna, his family told CNN affiliate WBBH.
Reyna's family told WBBH that Reyna was kneeboarding with friends in a water filled ditch by his house on August 3. He slept the entire next day.
Reyna is an active seventh grader, his family said, so sleeping that much was unusual. His mother took him to the hospital immediately. He underwent brain surgery and doctors diagnosed him with primary amoebic meningoencephalitis, according to WBBH. The family said he is currently in the intensive care unit at the Miami Children's Hospital.
The CDC says they have been in touch with the patient's physicians and have released the same experimental drug used to treat Hardig in Arkansas. It's not clear if the drug has been, or if it will be, administered to Reyna.
Getting this parasite is extremely rare; between 2001 and 2010 there were only 32 reported cases in the United States, according to the CDC. Most of the cases are in the Southeast.
These cases are nearly always deadly, but Hardig is giving the Reyna family some hope.
The 12-year-old Arkansas girl was infected with the same rare, brain-eating parasite a couple of weeks ago and has since been moved out of the intensive care unit at Arkansas Children's Hospital. Her condition has been upgraded to "fair," according to hospital spokesperson Tom Bonner.
Hardig has shown so much progress she can now sign her own name, her mother, Traci Hardig, told Bonner. Kali can't talk yet due to a sore throat from the breathing tube and general grogginess she feels from medication, Bonner said.
Hardig's doctors are in virtually uncharted territory. Of 128 known cases in the past half-century, just two patients have survived an infection caused by this microscopic organism, according to the Centers for Disease Control and Prevention.
Naegleria fowleri is found in hot springs and warm, fresh water, most often in the southeastern United States. The amoeba enters the body through the nose and travels to the brain. You cannot be infected with the organism by drinking contaminated water, the CDC says.
"This infection is one of the most severe infections that we know of," Dr. Dirk Haselow of the Arkansas Department of Health told CNN affiliate WMC about Hardig's case. "Ninety-nine percent of people who get it die."
Dr. Sanjiv Pasala, one of Hardig's attending physicians, says they immediately started treating Hardig with an antifungal medicine, antibiotics and a new experimental anti-amoeba drug doctors got directly from the CDC. They also reduced the girl's body temperature to 93 degrees. Doctors have used that technique in some brain injury cases as a way to preserve undamaged brain tissue.
Several weeks ago, doctors checked the girl's cerebral spinal fluid and could not find any presence of the amoeba.