National Night Out
Palmdale event could mean 'lights out' on crime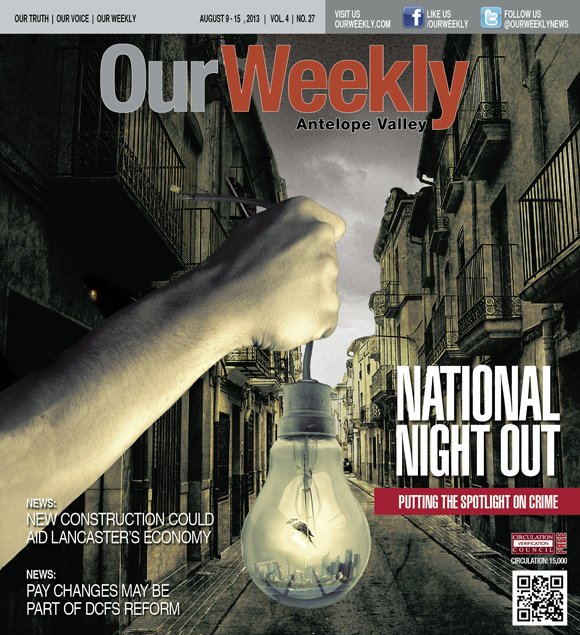 NATW wanted to promote involvement in crime prevention activities, police-community partnerships, neighborhood camaraderie and, importantly, to send a message to criminals, letting them know that neighborhoods are fighting back. That's when America first met McGruff the Crime Dog whose witty sayings and suggestions encouraged more citizen involvement in looking out for their block, their neighbors and nearby children and seniors.
The traditional "lights on" campaign and symbolic front-porch vigils turned into celebrations across America with various events and activities, including, but not limited to, block parties, cookouts, parades, visits from emergency personnel, rallies and marches, exhibits, youth events, safety demonstrations and seminars in a valiant effort to heighten awareness and enhance community relations.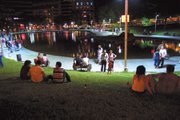 "It's a wonderful opportunity for communities nationwide to promote police-community partnerships, crime prevention and neighborhood camaraderie," said Matt Peskin, executive director of the NATW. "While one night is certainly not the answer to crime, drugs and violence, National Night Out represents the kind of spirit, energy and determination to help make neighborhoods a safer place year-round. The night celebrates safety and crime prevention successes and works to expand and strengthen programs for the next 364 days."
The first events were fairly simple. In most communities the usually warm summer evening amounted largely to lighted vigils with some basic information being delivered to the community. The focus today remains on bringing neighbors together, but with the advent of the digital- and cyber-age issues like bullying protection, cyber bullying (or "Don't Write It. Don't Forward It"), identity theft, Internet safety for children ("Be Your Kid's Safety Net"), back-to-school tips and even intellectual property theft have become discussion points.
Organizers today provide National Night Out promotional materials as well as ideals, tips and guidelines on how to organize and spread the word about participation. Though it is much more than a summer block party, food has become an integral part of the event. Light snacks and refreshment (watermelon, lemonade, ice cream cones, pizza, hot dogs, burgers, etc.) have become the norm for the increasingly popular evening. Sometimes a "mixer" can facilitate conversations and lead to new friendships. The community is always first and foremost, and that's why food banks, neighborhood cleanups, flower and tree planting, and sowing/harvesting vegetable gardens have become part of the yearly activities.
Paving the Way Foundation of Lancaster participated in the Thursday-night event, one of the many local social organizations trying to make a difference in their community. "We do reentry for people on probation and parole," said Antelina Feldstein, a case worker with the organization. "We have an opportunity to help reintroduce people back into the community via education, employment services, certification classes, housing assistance and the like. We also partner with Antelope Valley College to help provide a second chance for people."
One reason why organizations like Paving the Way Foundation have become successful is because of the 30-year crime-awareness campaign launched by the National Citizen's Crime Prevention Campaign. Since its inception in the mid-1980s, the campaign has garnered roughly $1.4 billion in donated media support. Thanks to McGruff and his nephew Scruff, the citizen proactive campaign has addressed many of the aforementioned plagues on society not only in English but in Spanish-language media. Today, McGruff and friends have changed their message from urging personal, family and home security methods, to broader based crime prevention measures.