National Night Out
Palmdale event could mean 'lights out' on crime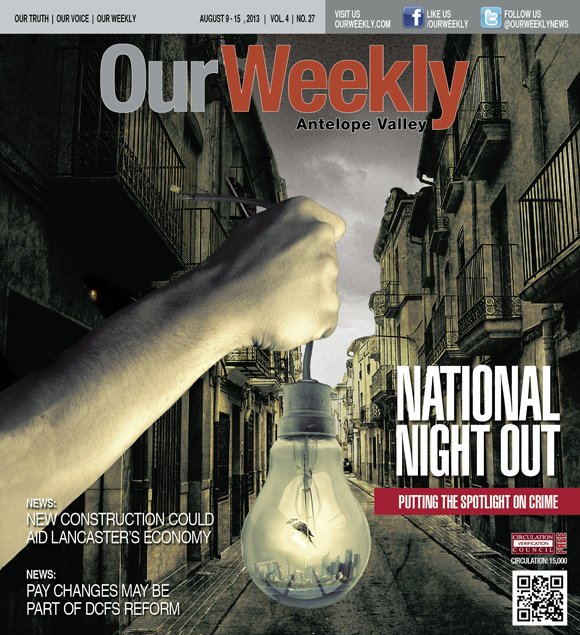 In recognition of National Night Out, the yearly event which features residents nationwide strolling around their neighborhood sounding the call for an end to violence and encouraging more interpersonal communication, the city of Palmdale will host a public safety event tonight from 5 to 8 p.m. at the DryTown Water Park, 38350 E. Ave. S. The city of Lancaster conducted its own Public Safety Fair and Emergency Expo on Thursday night at American Heroes Park.
Palmdale's event is in conjunction with "Sundown at DryTown," where the city's public safety staff will answer questions, while the Los Angeles County Sheriff and Fire departments will have vehicles on display as well as representatives to share information and to speak with residents. The city hosted a similar event on July 25 at Poncitlan Square and officials believe tonight's activities will be equally rewarding and informative.
"We are inviting the community to stop by and take advantage of the last 'Sundown at DryTown" event of the summer and also meet our crime prevention staff and ask questions about what we have to offer," said Kelly Long, Palmdale community safety supervisor. "Our Community Watch programs offer so much more than safety training. They are a launching pad for creating and developing a sense of community among your neighbors."
Thursday night, the sheriff's and fire departments, as well as the Department of Children and Family Services, the CHP, Antelope Valley Partners for Health and the Department of Animal Care and Control gathered in Lancaster to promote ways in which the public, government and private entities can work together to help protect themselves and their families in the face of property crimes, disasters and personal injury.
The general purpose of National Night Out is to engage the community in taking a stand against crime. Citizens are educated on safe practices to promote awareness and general public safety. A number of booths were sponsored offering both information and displays regarding neighborhood watch, business watch, fingerprinting, fire safety, pool safety and many other issues where forethought and preventative measures can avoid tragedy.
It is also an opportunity for public service agencies to put into effect various crime awareness programs which are designed to generate participation in local anti-crime efforts. Officials here attest that such events can strengthen neighborhood spirit and law enforcement-community relationships, thereby sending a message to potential criminals that neighborhoods are increasingly organized and are fighting crime.
"Meetings and gatherings provide wonderful opportunities to learn about what is going in your city," Long continued, "and about programs and resources available as well as the valuable information you share with us which, in turn, helps us shape current and future programs and public safety actions to meet the needs of our residents."
The annual event, traditionally conducted during the first week of August, was the brainchild of the National Association of Town Watch (NATW). In 1984, it was estimated that 2.5 million Americans took part in events across 400 communities in 23 states. Today every state participates, including 37 million people in 15,000 communities, U.S. territories, some Canadian cities and even at military bases abroad.