The resurrection of Jordan Downs
From public housing to 'urban village'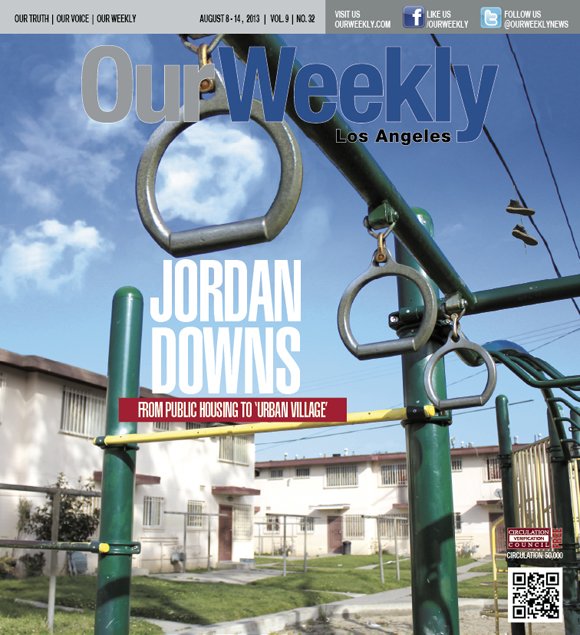 Continuing a nationwide policy of demolishing so-called obsolete public housing, the long infamous Jordan Downs housing projects in Watts will be torn down in favor of an "urban village" of up to 1,800 new residential units as well as retail and restaurant space and a central community park.
The Los Angeles City Council voted in the spring of 2012 to raze the 700-unit site and rebuild it as a mixed-income development. Jordan Downs, bounded by 97th and 103rd streets north-to-south, and from Grape and Alameda streets east-to-west, through the years has become synonymous with the so-called "welfare state" in one of the nation's most poverty-stricken communities. The view from most of the 103 buildings points toward crumbling factories; overgrown, debris-strewn lots; abandoned industrial parcels and Jordan High School itself, which is undergoing extensive remodeling.
The rebuilding project could begin as early as 2015, while soil remediation on the nearby abandoned factories will commence at the end of this year.
The Environmental Protection Agency will conduct a public hearing at 5 p.m. on Aug. 21 at the Jordan Downs gymnasium to provide information as well as to gather input from residents. The term "urban village," also used to describe the new commercial/residential development planned near USC, is an urban design concept characterized by medium density construction utilizing mixed-use zoning, pedestrian areas and open public space. "Mixed use" identifies different types of uses in the same development, such as commercial businesses on the first floor, residential units on the upper floors as well as educational and social services.
The project will be undertaken by the Housing Authority of the City of Los Angeles (HACLA) and will feature four-story townhomes and condominiums, some of which will be available at "fair market" value. The majority of dwellings will be dedicated to low-income potential residents; retail space and market-rate housing will be interspersed with the hopes of enhancing "quality of life" standards for the traditionally neglected neighborhood and, by extension, improve the national perception of Watts.
Four years ago the city of Los Angeles annexed 42 acres of adjacent land to increase the size of Jordan Downs to almost 119 acres. The housing authority has invested more than $45 million on the proposed project, which is expected to generate about $1 million annually in new tax revenue, and create up to 200 permanent jobs. The development may also create some 6,400 full-time equivalent jobs during the construction phases. Housing Authority officials said they will debate over time if the name will remain or change.
Part of a long-range development objective that also includes the Central Avenue Master Plan, construction at Jordan Downs will be completed in phases over the next decade as the market demand for housing in Watts improves. The initial, critical phases include a one-to-one replacement of existing public housing units, extension of Century Boulevard between Wilmington Avenue and Alameda Street, and continual development of neighborhood-serving retail outlets. There will be mixed-use opportunities suited for high-tech, light-industrial companies, new educational and recreational facilities, and enhanced community programs.