President Obama fields housing questions online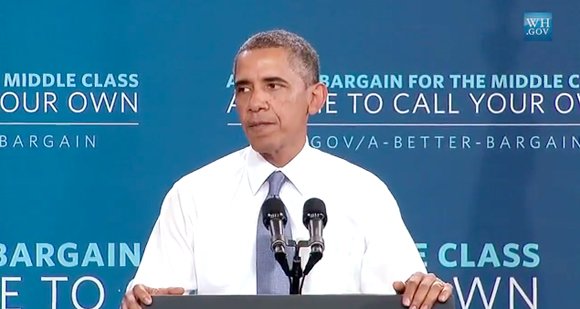 Continuing a two-day trip to the Los Angeles area, President Barack Obama fielded questions from homeowners and prospective buyers about the nation's housing situation, saying in an Internet discussion he wants to simplify the mortgage process so people are more "empowered" during the purchase process.
"We can expect that we're going to try to simply mortgage(s) ... so that you don't have a lot of fine print, you know exactly what you're getting," Obama said during the online discussion, titled "Zillow Presents: A Better Bargain for Responsible Homeowners: President Obama Answers Your Questions."
The president said he wants to simplify the process so "somebody who's involved in a transaction can operate with complete transparency, they can know what they might owe once they get a mortgage potentially approved. The more knowledge consumers have, the more empowered they're going to be and the more likely they're going to be (able) to live out the American dream that I think all of us want to see, not just for ourselves but for our kids and our grandkids."
The online discussion, moderated by Zillow CEO Spencer Rascoff, was conducted just before Obama traveled to Van Nuys Airport for a helicopter trip to the Camp Pendleton Marine base in northern San Diego County, where he will visit troops and their families to thank them for their service to the nation.
The president was expected to helicopter back to Los Angeles International Airport after his remarks at Camp Pendleton, with Air Force One scheduled to depart the area at 2:20 p.m.
Obama arrived at LAX shortly before 3:30 p.m. Tuesday aboard Air Force One from Arizona, where he toured a construction company and delivered a speech at a Phoenix high school, calling for sweeping housing reforms, including the elimination of Fannie Mae and Freddie Mac.
Obama then traveled to NBC's Burbank studios by helicopter and motorcade to appear on "The Tonight Show with Jay Leno," where he attempted to win Republican congressional support for increased spending on infrastructure.
"For the last three years I've said let's work together," Obama said.
"Let's find a financing mechanism and let's go ahead and fix our bridges, fix our roads, sewer systems, our ports."
Obama cited the widening of the Panama Canal  to accommodate supertankers, set to be completed in 2015, as one reason to support increased spending on domestic infrastructure.
"If we don't deepen our ports all along the Gulf (of Mexico) — places like Charleston, S.C., Savannah, Ga. or Jacksonville, Fla. — ... those ships are going to go somewhere else. We'll lose jobs. Businesses won't locate here."
Obama criticized a new law in Russia banning "propaganda of nontraditional sexual relations."
"I have no patience for countries that try to treat gays and lesbians and transgender persons in ways that intimidate them or are harmful to them," Obama said.
"What's happening in Russia is not unique. When I traveled to Africa, there were some countries that are doing a lot of good things for their people, who are working with them and helping them on development issues, but in some cases they persecute gays and lesbians and it makes for some uncomfortable press conferences sometimes.