Did San Diego mayor target victims of military sexual assault?
At least 8 female veterans have made claims against the mayor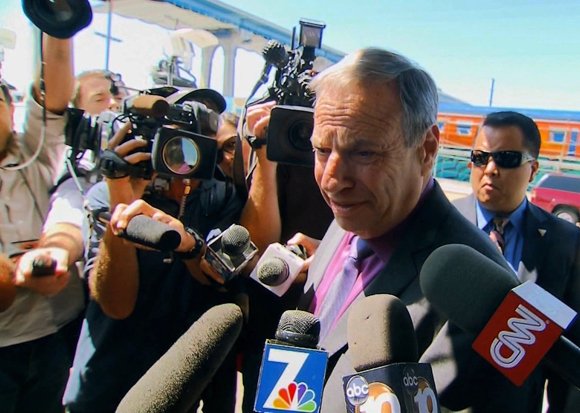 The man on the voicemail is flirty and clearly asking for a date. But it's the name on the message that's raising red flags.
"Hi, it's your newly favorite congressman, Bob Filner. You know, the one who fell in love with you at your last speech," he told Eldonna Fernandez.
He also asked her out to dinner in the message.
"I don't want to wait 'til you come back to have dinner with you," he said.
That message was left a year ago, while Filner was serving his 10th term as a U.S. congressman. He had met Fernandez at a National Women's Veterans Association of America "Healing and Hiring Fair."
When Fernandez got the message, she immediately deleted it. But when sexual harassment allegations against the now-San Diego mayor began to surface a few weeks ago, she remembered the "creepy" message and was surprised to find it still sitting in her iPhone's voicemail trash.
"Ugh. It creeps me out, it creeps me out," Fernandez said. "The guy's got problems."
But the unwanted voicemail isn't the real problem for Fernandez. It's where and to whom he made inappropriate advances.
Fernandez, along with Army veteran Gerri Tindley, joins 11 other women who have publicly accused Filner, 70, of making unwanted advances, from groping to verbal passes.
They are also among at least eight female veterans and members of the National Women's Veterans Association of America (NWVAA) in San Diego who have made accusations against the mayor. Almost all of the women were victims of sexual assault while they were in the military.
The women, like Fernandez, say the former chairman of the House Veterans' Affairs Committee used his significant power and credentials to access military sexual assault survivors, who they say are less likely to complain.
Fernandez is a retired master sergeant from the Air Force. She served 23 years in the United States and was deployed to the Middle East after 9/11.
She said she was raped three times during her service. Like many victims of military sexual assault and rape, she suffered in silence, believing the system would never support her.
In civilian life, Fernandez now speaks openly about her assaults and is an active member of the NWVAA, which supports victims of military sexual assault.
Fernandez was speaking at an NWVAA event in August 2012 when she exchanged business cards with Filner.
"He looks at my card. He looks at me. He says, 'Fernandez. Are you married? Do you have a husband?' Very quick, very direct. I said, 'No, I'm divorced.' 'Well, you're beautiful, and I can't take my eyes off you, and I want to take you to dinner.' I was really shocked and I was like, 'Uh, OK,'" Fernandez said.
Then came the phone call and voicemail, which Fernandez never returned.
Another veteran: Filner was rubbing me
At the same NWVAA event where Fernandez spoke, Army vet Tindley gave a speech about her violent rape, which she said happened during her eight years of service. She bore a son from the sexual assault.