Sides in rancorous James "Whitey" Bulger trial make final pitches
Accused of 19 killings during a 20-year "reign of terror"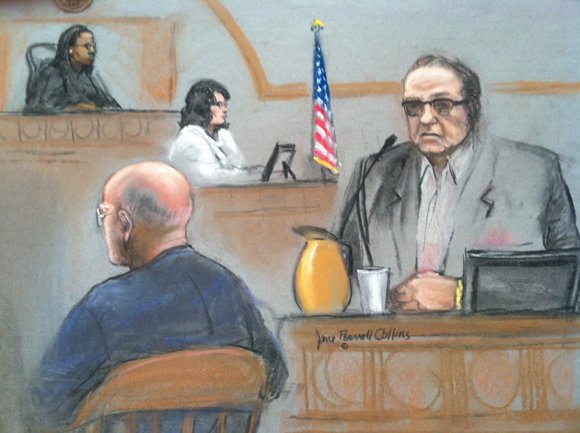 Bulger is not charged with delivering the fatal blow in all of the murders, but is charged with participating as part of a racketeering conspiracy. Wyshak called Bulger "the leader of a very wide-ranging, broad organization," who is culpable for his co-conspirator's crimes.
Wyshak's got choked up at some points, trying to make Bulger appear utterly heartless.
In talking about the murder of Paul McGonagle, Wyshak recalls that Bulger's former cohorts testified that whenever they passed the Neponset River, where McGonagle's remains were exhumed in 2000, Bulger said, "'Drink up, Paulie.' That's the level of humanity that this defendant is operating at. ... And every time he goes by there its 'Drink up, Paulie.'"
Each side has three hours to make its final case before the jury decides the fate of the alleged crime boss.
During the trial, jurors heard dramatic testimony from convicted gangsters, bookies, extortion victims, a disgraced FBI supervisor, ex-drug-dealers, retired FBI agents and relatives of people Bulger is accused of killing.
Prosecutors called 63 witnesses. The defense called 10. Martorano testified for both sides, making a total of 72 witnesses over 35 days.
Bulger never took the stand despite repeated hints from his lawyers throughout trial he would testify. In fact, Bulger seemed to want to testify. Questioned by Judge Denise Casper, Bulger called his decision a "choice made involuntarily."
He claimed he had been given immunity for his crimes by the former head of New England's Organized-Crime Strike Force, Jeremiah O'Sullivan, now deceased.
'Bulger:I didn't get a fair trial'
Bulger, who lost his temper several times during the trial, appeared angry, shaking his finger at the judge and claiming he was "choked off from making an adequate defense."
"I didn't get a fair trial. This is a sham. Do what ya's want with me," Bulger said.
Families of the victims have been in court every day of the trial. The wife of one of the victims shouted "You're a coward!"
Patricia Donahue's husband, a truck driver, was killed in the crossfire of a slaying Bulger allegedly committed. She later explained Bulger had a chance to take the stand and tell the truth.
Bulger's partner, Steve "The Rifleman" Flemmi, testified as one of the government's star witnesses, and he said that he saw Bulger strangle the two women. The defense team, however, presented evidence that Flemmi had the greater motive to kill the women — his girlfriend and his stepdaughter.
The girlfriend, Debra Davis, was about to leave him for another man. The defense recalled Martorano, who testified that Flemmi admitted he "accidentally strangled" the 26-year-old woman.
Flemmi acknowledged he lured Davis to a home but says Bulger strangled her because she was talking too much and had become a liability.
In his closing argument, prosecutor Wyshak told the jurors they "don't have to decide who strangled Debbie Davis."
"He doesn't need to be the one that strangled her to be criminal liable," he said. "If he is a co-conspirator or he aids and abets, he is just as liable as he is if he puts his hands around her neck and strangles the life out of her."
A number of retired FBI agents and supervisors also took the stand, many testifying that they believed Bulger should have been shut down as an informant because he wasn't providing any useful information.
The agents said they never pressed the issue because apparently FBI headquarters felt Bulger was useful in taking down the New England Mafia.
There are 18 jurors,12 with six alternates. Eleven are men and seven are women.
Deborah Feyerick and Kristina Sgueglia | CNN